Posted 11th May 2017 by Anonymous (not verified)
How to connect the latest LinkedIn feature with your marketing automation tool?
There is no doubt that social media channels are essential when it comes to lead generation. Regardless whether you are a B2B or B2C business, social networks are now fundamental channels, not only for creating exposure but also for creating successful customer journeys. 
But the focus of this article is not about the significance of social media channels in general. It is rather to address how some major social media sites are rapidly evolving their paid advertising platforms to help marketers generate more leads and reach their target audience.
What are the new paid advertising features on LinkedIn?
Historically, LinkedIn has done a good job when it comes to paid advertising and enabling users to target relevant networks with enhanced segmentation criteria (such as company, age, gender, job title, skills, location… the list could be long!). 
But still, there had been some important features missing in the LinkedIn toolkit (features that Facebook has taken the lead in after being first to the market). I'm talking, as you may have guessed, about the new remarketing features and lead generation forms. 
LinkedIn has realised the impact and big significance of those two features in the social advertising world. And they have decided to bring in those features to their advertising platform.  Smart move, LinkedIn!

But how can these features impact your customer journey?
If done right, the new features have a huge potential to create a more seamless experience for your customers, especially Lead Generation Forms. They not only make it easier for marketers to convert and generate more leads with automatically populated mobile friendly forms, but they also make it possible to throw a marketing automation tool into the mix! 
By adding the right marketing automation tool to the mix, this feature will basically enable digital marketer to create a seamless journey for leads that have been generated directly on social media. This could definitely be a game changer for many companies striving to create effective lead generation.
How to combine LinkedIn Lead Generation with marketing automation
If you're working with lead generation then you probably think this sounds interesting, but the question is: how to get started? Just hold on for a second and I'll show you. 
Here at APSIS, we decided to put the new LinkedIn Lead forms to a test by connecting it with our own APSIS Marketing Automation tool. The process is quite easy and straightforward. First I'll show you how to set up the forms on LinkedIn and then how to connect this form with our tool for Marketing Automation. Here's how to do it.
Step 1: Create great and compelling content
First things first: start by creating the content that you want your audience to engage with. Remember: content is always king, so make sure to nail this part. In this example, we wanted to give people the chance to download our latest guide to Customer Profiles . We drafted some copy for the post and added a nice image to back it up!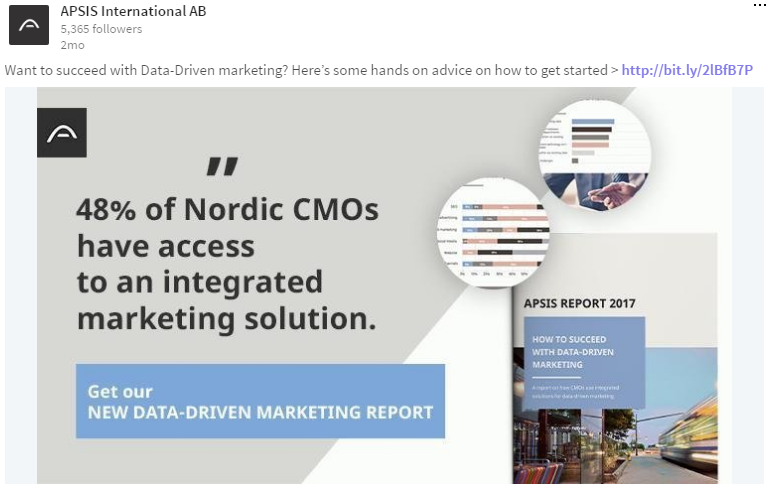 Step 2: Build your form and define what fields to be automatically populated
Now it is time create the form that will enable your audience to request your content. Creating a form in LinkedIn is quite intuitive; you only need to define and add what fields you want (be it name, company, title, etc.).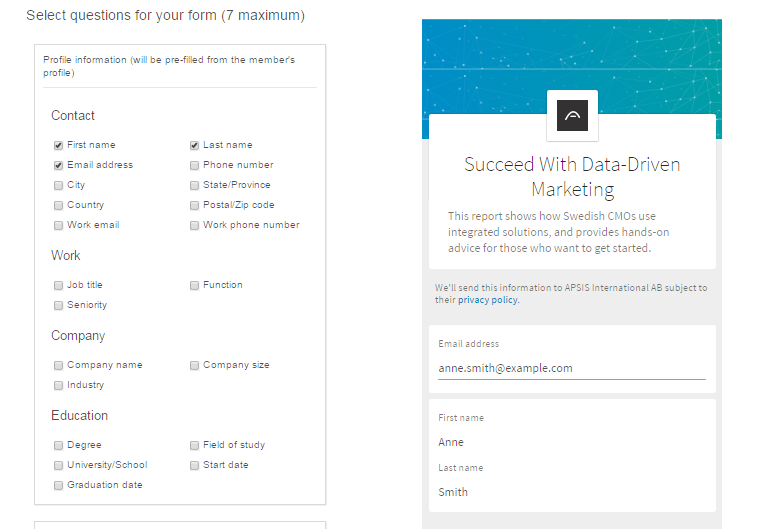 Step 3: Activate your campaign
Once your content and form are ready, all you need to do now is push it in a sponsored update. This will look something similar to this!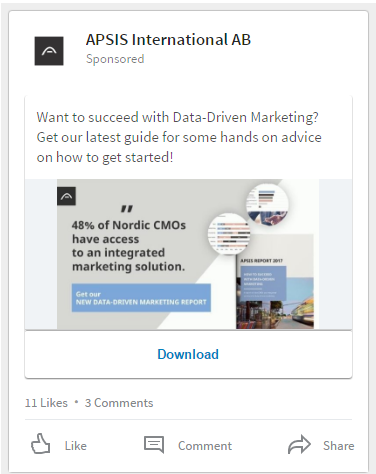 How to connect Lead Generation forms with Marketing Automation?
So far, so great - but what happens when a user request your content on LinkedIn without visiting your website? Ideally you would want to send these leads the requested content and then initiate a seamless marketing automation flow to nurture them further. 
But how do you do all that instantly and in real time? This is where you want to add marketing automation to the mix. All you need to do are two things:
First: Integrate your marketing automation tool with LinkedIn Lead Gen forms, 
In this case we used Zapier and connected our own Marketing Automation tool with the LinkedIn Lead Generation forms. 
Second: Build your marketing automation flow to further nurture the leads generated.
Map out the journey for people how has filled in the form. If you are using our Marketing Automation tool, it will look something similar to this.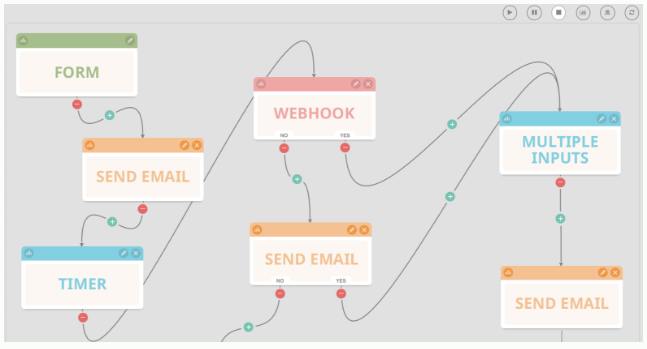 With this set and ready, you just need to press play. And then get ready to analyse the performance of your campaigns! 
Remember that testing is always a good approach if you are looking for ways to optimise the impact of your automated campaigns. So don't be afraid to try different versions of your LinkedIn Lead Forms, content, or even the automated flows! 
This way you significantly increase the chances for both reaching your KPIs while giving your social media fans the best and most seamless experience possible! 
Reach out to our digital experts if you want to more hands-on advice on effective lead generation. And don't forget to check out our new tool for marketing automation. 
Best of luck with your next campaign!