Oct 29 | 4 minutes read |
Black Friday 2018 Infographic: The Stats You Need to Maximise Sales
The mother of shopping holidays is approaching…
Up until November 23rd, consumers all over the world have their eyes set and peeled to find the best Black Friday deals. But how can you get on top of the numbers and create sales that break the internet? We've created an infographic with an accompanying post to guide you through the jungle!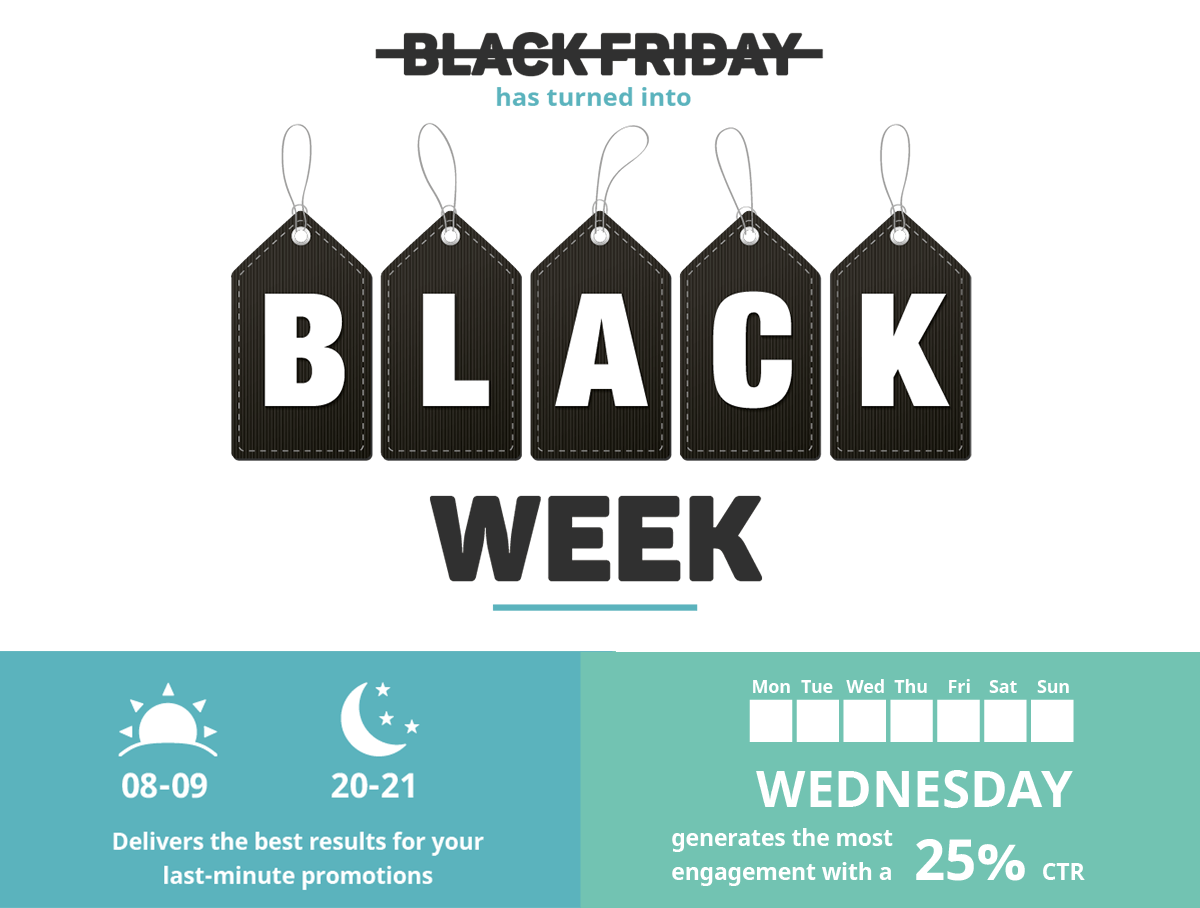 Black Friday is No Mo'
The concept of Black Friday has lost its footing. Rather than keeping the consumer's holiday a full-day discount fiesta, retailers and e-tailers choose to kick it off the same week – or even the week before.
Why? Well, numerous reasons. But three of the most common ones are to give loyal customers a VIP treatment with a pre-sale, to get a head start on eager bargain hunters, or to simply generate more money in the cash cow.
Want moo' tips to create a smashing Black Week? Check out this blog post!
What Date and Time Generates Maximum Engagement?
When, where, why… The amount of parameters for Black Friday are plentiful. And one of the most pressing issues is when to send out your email campaigns.
Need some fact-based insights to drive your sendouts? We've got you!
Last year, we crunched through the numbers in our own servers to dig out the answer. What we found was that there was dip on Tuesday and a steady increase – and then, perhaps unsurprisingly, a jolt on Friday.
However. There's a correlation between overfilled inboxes, open rates and click-through rates: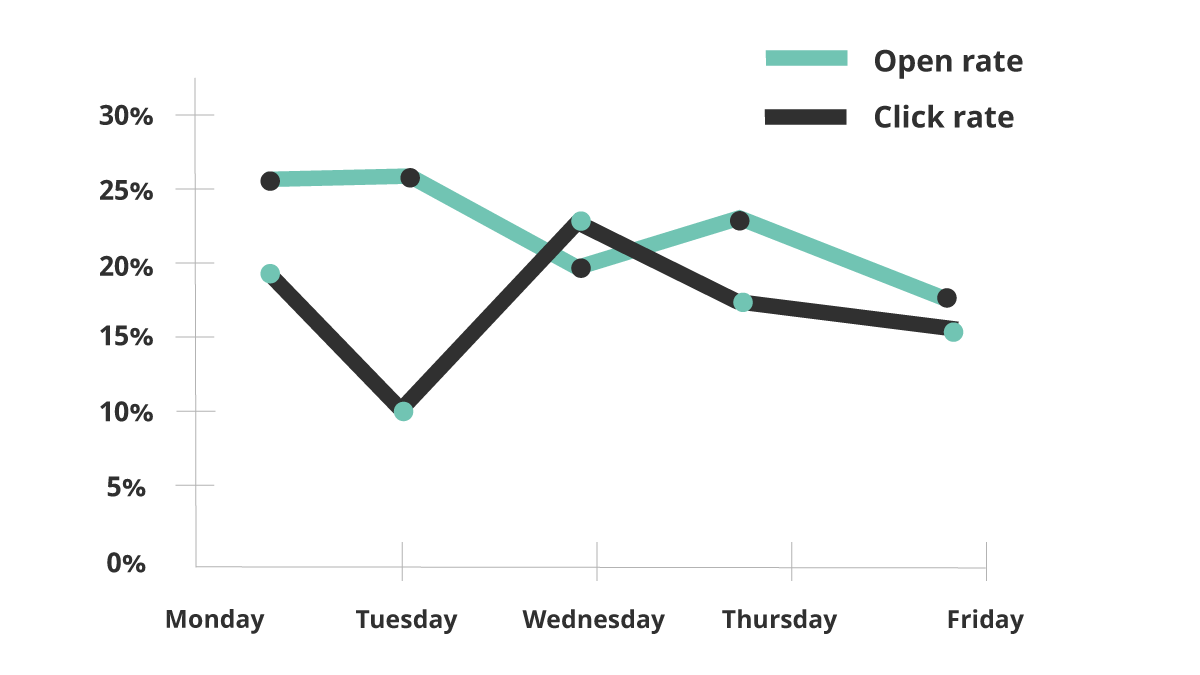 Even though the open rates were highest during the email dip on Tuesday, Wednesday delivered the highest click rate of an impressive 25%, followed by a decline Thursday and Friday.
But of course, you still want to get the last little email in to convert the late shoppers. Last little bit of timely advice? Aim to send your Thursday and Friday promotions between 08-09 or 20-21 when people are commuting or have put the tiny ones to bed.
 
Want the full intel? Check out our Black Friday statistics!
Black Friday is Gaining Major Nordic Momentum
The shopper's holiday used to be an American event that was kicked off the day after Thanksgiving. But as the world and e-commerce market moves from local to global, consumption patterns follow suit.
Case in point: Black Friday sales in Sweden increased from €370 million to €525 million between 2016 and 2017 (Source Post Nord).
Overcrowded Post Offices
Package overboard! Last year, 719,000 (Source Post Nord) Black Friday packages were sent through the Swedish carrier, Postnord. In fact, post offices were flooded with packages and were forced to send out SMS to urge and plead for a swift pick-up.
Mobile is Slowly Taking Over, But Desktop Wins the Revenue Battle
The smartphone is becoming an essential part of the shopping experience. In fact, mobile commerce in the Nordics grew from 16% 2016 to whopping 26% 2017. To add fuel to the fire, the mobile device won the battle of driving traffic last Black Friday, according to MarTech Today.
Our e-commerce guru wrote an article on the matter, but Black Friday data clearly shows that more and more consumers take to the mobile for quick research or leisurely shopping.
However…
Even though m-commerce serves a brilliant purpose, the format isn't ideal for in-depth bargain hunting. As a result, many Black Friday consumers tend to begin their journey in their smartphone, but finalise the purchase in the more research-friendly desktop.


The takeaway? Make sure to create an easy segway between the two with SMS, retargeting or customer profiles.
Single Device, who? Omnichannel is the Answer!
There's a lot of talk of channels and devices as separate stand-alone entities. But even though mobile is growing in the e-commerce matrix, the truth is that we need to work with a unified omnichannel mindset.
As research from Postnord, Svensk Digital Handel och HUI Research shows, customers aren't in the early stages of an omnichannel mindset. They've soared towards maturity as they continuously interplay between channels during a purchase decision:


This means that you, as a retailer, shouldn't divide your marketing activities into online or offline. Rather, you need to keep both in mind if you want to create a unified experience that caters to your customers' wants and needs. Because that's what Black Friday success is all about.
Want to know more about implementing an omnichannel strategy? We've got content on the matter geared towards both theory and practice. Take your pick – or both!