Oct 14 | 4 minutes read |
Retail Marketing Asia 2020: Endless Possibilities with Data-Driven Retail Marketing
Engagement is key to creating meaningful and long-lasting customer relationships. But in a competitive market, it's not as easy as one could hope. APSIS' Chief Commercial Officer, Jakob Lunøe, took the virtual stage at Retail Marketing Asia 2020 to present how retail businesses can use customer data to create personalised experiences that make them return, time and again. Let's have a look!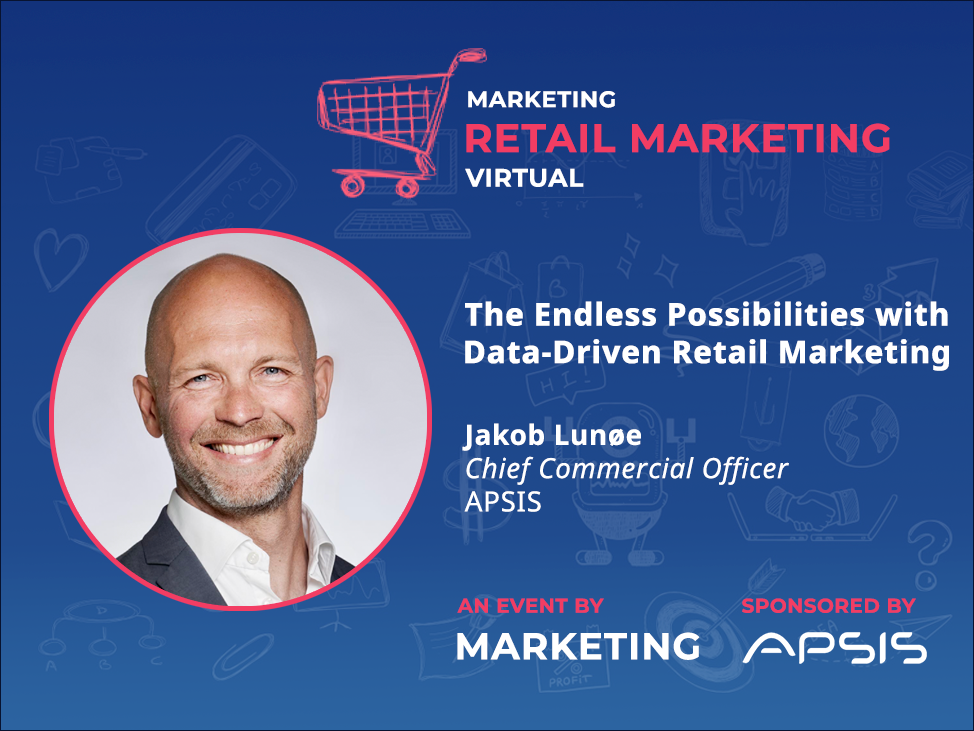 Consumer thinking and actions have been reoriented, and this will have long-term consequences
The Current State of Online Retail: 3 Online Shopping Trends in Hong Kong
Whether we look at Asia or Hong Kong we can see that online retail is growing rapidly. Today's consumers are becoming more used to shopping products and services online – and it's becoming a natural part of our everyday lives.
Trend 1: Demand for convenience and safety
Trend 2: Shift towards online to offline to shorten delivery time and enhance customer experience
Trend 3: Rise in online spending due to change in consumer buying behaviour
As the market becomes more saturated and consumers have a plethora of options to choose from, it becomes all about putting the customer first, making a purchase as convenient as possible, customising your product to your customer, and allowing the customer to contribute to your process, brand and operation, all of which work together to give your brand the competitive edge it needs to win customers over. So, how do we do that?
Customer Journey: Creating a loop of engagement
The first sale is just the initial step toward a successful long-term relationship, yet the returning customers are more valuable in the long-run.
Repeat customers are 9 times more likely to convert than a first-time buyer
From a global perspective, statistics show that 81% of customers say that trusting a brand is an important deciding factor in their purchase decisions. If they can count on your business, they feel more enticed to purchase from you.
One of the main reasons why customers drop out of the customer journey is the lack of trust. Trust is key in any relationships and the ones between your customers and your brand aren't any different. Here are four simple strategies you should stick with:
1. Be transparent. Don't withhold information, especially about how you use your customers' personal data.
2. Manage your data and make use of customer data to deliver customised experiences
3. Use social proofing. Third-party opinions are essential in building trust, because people tend to listen to people.
4. Create consistency. Providing your customers with consistent brand experiences will make your business more trustworthy.

But the first sale is just the initial step toward a successful long-term relationship. Retaining customers is more valuable in the long-run, and it should be the main focus of your overall marketing strategy. The question is how?
Building trust with personalisation
With that said, no customer journey is alike, and the same goes for the customer taking that journey. This means that to truly engage your customers, you need to get to know your customers by heart, and make them feel special – by delivering relevant content to them. Sending out bulk messages to your entire target group won't take you very far. Today's customers demand personalised experiences from their first interaction, across every touchpoint. So – what do you need to do to turn the dream-scenario of returning customers into reality?
The customer must be in focus, and efforts must be made to deliver the right message, through the right channel, at the right time
How marketing automation creates retention and builds loyalty
To win over your customers' hearts, and create that 'loop of engagement', you need an element of "realness" and sincerity. Consumers want transparency – and they expect communication that feels genuine. One way of retargeting your visitors is by using a sequence of messages based on behavioural triggers. This is where marketing automation comes in. You can save valuable time by automating repetitive tasks, such as emails, SMS, and more, by sending relevant and personalised messages – to the right person, at the right time based on their behavior and actions. Here are some examples of automated flows that will be of value for your business:
 
1. Targeted campaigns to increase brand loyalty
2. Replenishment flows to reactivate customers
3. Re-engagement flows to get a visitor, customer, or loyal ambassador back on track
4. Personalised recommendations to influence a second purchase
Watch the full playback below to learn about the Endless Possibilities with Data-Driven Retail Marketing, including details about the automated flows mentioned above.
5 Key takeaways
1. Customer-centrism is now, and the future
2. The journey doesn't end at purchase, it's rather a loop of engagement
3. Trust is key to build retention and loyalty
4. Make customers return by providing personal relevance – at all times
5. Use automated flows and product recommendations to drive engagement
 
Want to learn more about marketing automation and personalisation? Dive into our blog post on data-driven marketing on apsis.com