Jun 28 | 8 minutes read |
5 Ways to Turn Around Your Online Sales Decline
Every few quarters, retail businesses have to deal with dips in sales and revenue. With the global economy recently slowing in the wake of the COVID pandemic, online retailers are being disproportionately hit as consumers tighten their purse strings.  
Following the looming global economic recession, online sales across Europe have been in decline for at least the past quarter. Reports in the UK suggest that customers are spending 21.8% less than a year ago on online purchases. Does this spell the end for online retail? 
Launched in Sweden by Ingvar Kamprad, IKEA has grown into becoming the world's largest furniture retailer and Sweden's 8th biggest online store. There have been several economic downturns and sales declines, but they have continued for nearly eight decades. And you can too! 
Besides IKEA, business history is replete with stories of brands that have found ways to restore sales after periodic declines. What did they do right to bounce back? In this article, we share some of these steps they took! 
How to turn around your online sales decline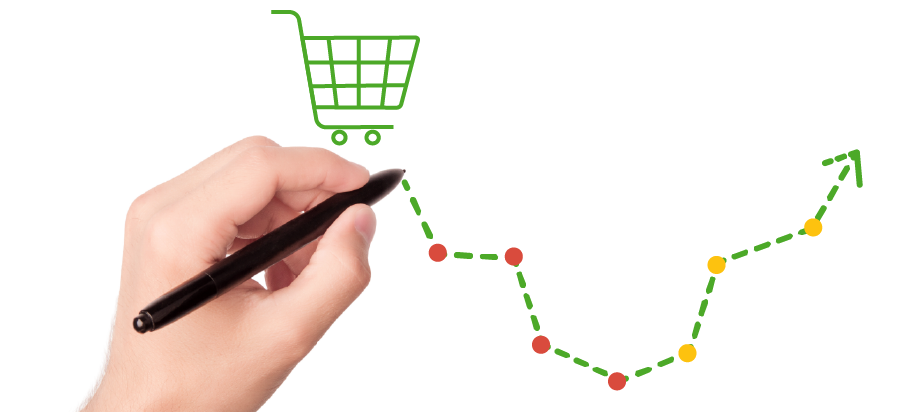 Since online sales is the bread and butter of the modern business, a decline can be a scary thing. It can be tricky pinpointing the exact reason why sales are slipping, but here are some general strategies you can use to help turn things around: 
Audit your sales funnel and checkout flow 
Are you reaching the right people with accurately tailored messaging? If not, it may be time to change your marketing strategy.  
Now, if your water bill suddenly doubled, one of the first things you would do would be to find a plumber to review and repair possible leakages in your water pipes.  
Online sales work similarly. If you notice a decline in sales, it's possibly due to flaws in either your sales funnel or your checkout flow. So, the first step to fixing a decline would be to review both properly. 
It's not just enough to have the most sophisticated marketing campaign. You also have to make it easy for your customers to buy from you. All marketing material must be embedded with links that take customers directly to your product catalogue.  
Nobody wants to endure clicking across multiple pages that aren't integral to their purchase. So, shorten the checkout flow as much as possible. From login (or clickthrough) to checkout, customers want to be done shopping in only a few minutes. 
Broaden payment options 
Customer needs are ever-evolving, and the latest fad is that consumers want "buy-now-pay-later" tools alongside multiple other payment options.  
In today's tech-driven economy, the average customer has more payment options than ever before. While credit cards are still in the lead, consumers are increasingly reliant on e-wallets, cryptocurrencies, and more recently, BNPL tools.  
Globally, BNPL transactions accounted for € 147  Million or 2.9% of all e-commerce in 2021. In Europe specifically, the percentage was even higher, at 8.1%. And considering that consumers tend to be less guarded about purchase decisions when they don't have to pay immediately, BNPL is projected to grow even further to € 409  Million globally in 2025.  
The earlier you snagged yourself a share of this developing market, the better for your online sales numbers. And with the help of buy-now-pay-later tools like Afterpay and Klarna, you can give your customers the flexibility they need to make a purchase without putting a strain on their budget.  
These tools are easy to use and can be integrated into your (APSIS One's) existing checkout process. So, if you're looking for a way to boost your sales, consider offering your customers the option to buy now and pay later. It's a win-win for everyone involved!  
Improve CRM and customer service 
Customer relations are at the heart of any business. It determines whether consumers decide to stay loyal to your brand. If your business is larger than only two employees and ten customers, you need a quality solution like Efficy's CRM to help you manage your customer relationships better.  
With a CRM, you get to aggregate customer data in a single database and then use these data sets to create specific customer profiles, which you can then use to automate and personalise customer communications across all touchpoints. 
It isn't just about personalising regular communications—it's about the whole customer experience. Consider Yumble, an American online food delivery service for kids. To get ahead of delivery issues, they email customers to alert them of potential holdups and gift them a € 10 credit.  
Another online retailer, Foot Locker, helps customers find suitable substitutes for out-of-stock items. Innovations like these go a long way toward helping you build a peerless customer service reputation that arrests a further decline in online sales and enables you to gain new customers. 
Expand your catalogue 
Online retailers are required to evolve alongside customer wants constantly. According to Publicis Sapient research on online retail customer behaviour, 69% of consumers want to see new inventories every time they visit an online store. And 75% of customers' search queries reference new interests every time.  
So, if you notice declining online sales, you've probably held on to the same catalogue of products for too long. It's time to switch things up and update your product offerings. 
Audit your workforce; align your marketing & sales teams 
A workforce directly influences the success of any business. Regardless of the quality of its management, without the right people to do the legwork of implementing managerial decisions, any business would quickly lag behind. This is just as true for traditional brick and mortar businesses as it is for online retail stores. 
We're not saying it's time to begin dishing out termination letters. That's hardly necessary at this point. All you may have to do might be to audit your internal processes to make sure that your employees know their roles.  
Is your sales team up to snuff? Are your marketing & sales teams aligned in terms of marketing objectives, strategies, and the necessary customer database for them to work with? While this might seem difficult to implement, a CRM makes all of these a cakewalk. By bringing all your staff to one database, you can more appropriately monitor their work results to be sure that they are aligned with your goals and marketing strategy. 
How do I get customers to my online store?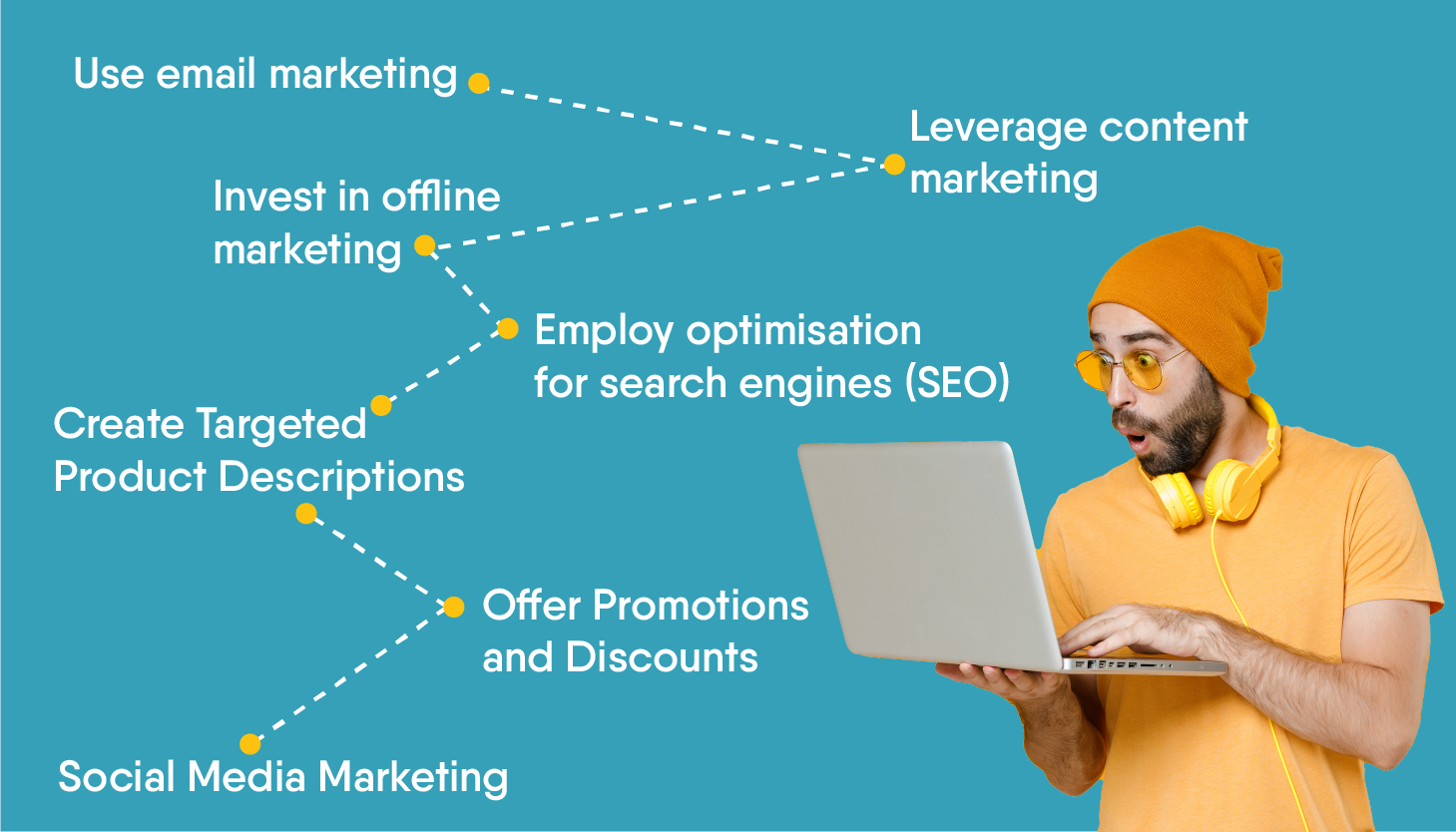 Use email marketing 
Email marketing is a fantastic channel to connect with both prospective and existing clients. Email newsletters can be used for various purposes, including promoting new products, offering price reductions in the form of coupons or discounts, and nurturing customer relationships. Make sure to segment your email list so that you can send information that is relevant to your recipients.  APSIS One is an excellent solution for email campaigns.  
Check out our Email Marketing Benchmark report packed with powerful information, and find out where your email marketing campaigns stand. 
Leverage content marketing 
Content marketing is another great way to attract attention and promote your products or services.  
You can deck the halls of your marketing materials with blog articles, videos, infographics, and other types of content relevant to your business on your e-commerce website or social media platforms. Include calls-to-action (CTAs) or what steps you want them to take. (e.g., buy your product, sign up for your email list, etc.). 
Invest in offline marketing 
Don't overlook offline marketing! Print advertisements, TV or radio commercials, and even promotional items such as t-shirts or tote bags are good examples of this. Offline marketing can also be used to promote online sales, like including a QR code on print ads that link directly to your website. 
Employ optimisation for search engines (SEO) 
The process of optimising your website to raise its position on search engine results pages is referred to as search engine optimisation (SEO). It's crucial because it may assist you in attracting a greater number of website visitors, which may ultimately result in an increase in sales — for free.  
Your website's search engine optimization (SEO) can be improved in a variety of ways, including by using titles and descriptions that are rich in keywords, optimising your images, and building backlinks. 
Create Targeted Product Descriptions 
In addition to optimising your e-commerce website for search engines, you should also create targeted and relevant product descriptions. Your product descriptions should be clear, concise, and easy to read.  
They should also include keywords that potential customers are likely to use when searching for products like yours. By including targeted keywords in your product descriptions, you can improve your chances of appearing in SERPs and driving traffic to your store. 
Offer Promotions and Discounts 
Another great way to get customers to visit your online store is to offer promotions and discounts. Customers are always on the lookout for a good deal, so offering periodic sales or discounts is a great way to attract attention to your store. Just make sure that you don't overdo it with the discounts, as this can erode your profits. 
Social Media Marketing 
Social media is another powerful marketing tool that you can use to reach potential customers worldwide.  
By creating social media accounts for your business and sharing high-quality content, you can drive traffic to your store and boost sales. In addition, you can use paid social media advertising to reach an even wider audience. When using social media marketing, it's important to be consistent and regular with your postings, as well as to interact with your followers and customers. 
Unlock Online Sales Galore with APSIS One. 
Regardless of the recent slump, eCommerce is not going anywhere anytime soon. If anything, it's only going to become even bigger over the next decade. Customers are simply not going to give up the ease of shopping from the comfort of their homes.  
The result? more competition. And this leaves any online retailer with the possibility of running out of business real quick. So, you can deploy our arsenal of tips to salvage the situation at the slightest hint that your business is running low in online sales.  
Much like which steps you take to arrest the decline in online sales, how you take them is crucial, and this is where APSIS One comes in. Our suite of native campaign tools puts you up close and personal with your shoppers with full customer insights, easy integration and personalisation at scale within your campaigns.  
Need some extra insight? Our experts have rolled their sleeves to bring you some insider intelligence on the retail industry. You can get it for free here. And while you're at it, wouldn't you rather let us show you how our solution helps you push the acceleration on your online sales? It all starts with booking a demo.