Jan 13 | 4 minutes read |
Make Your Valentine's Email Campaign Stand Out
Both locally and globally, Valentine's Day is becoming a larger and larger source of revenue: for example, consumers spent 19.7 billion dollars for Valentine's Day last year in the US alone. And it didn't all go to florists or jewellery shops either! Valentine's Day has become a chance for savvy marketers in B2C, B2B and nonprofit companies to prove their worth and mark their territory, just like with any other international holiday in the year.
Of course, this also means that it's become harder and harder to get your Valentine's email campaigns the necessary attention from subscribers, since they have several other companies jostling in their inbox with that same intent...
And this is where we come in. We've collected 5 easy tips (backed up by real-life examples!) to make sure YOUR Valentine's Day sending(s) will stand the test of time and subscribers. Here we go!
No 1: Don't be scared to go bold.
One tried and tested way to lift out from the competition: doing something totally different than what you (and they) usually do. Why not try creating a newsletter based purely on writing, for instance, instead of catchy images or design - like Need Supply did in the example above?
As you can see, apart from the (seemingly) interactive letter format, the only other thing they added was a small but vibrant CTA in the bottom right corner. Not just that, but they didn't add an extra discount as an incentive for subscribers: all they did was come up with a timely way to persuade subscribers to convert. Simple, yet elegant, no?
Get some more email design tips from our popular Email Design Guide - download it here!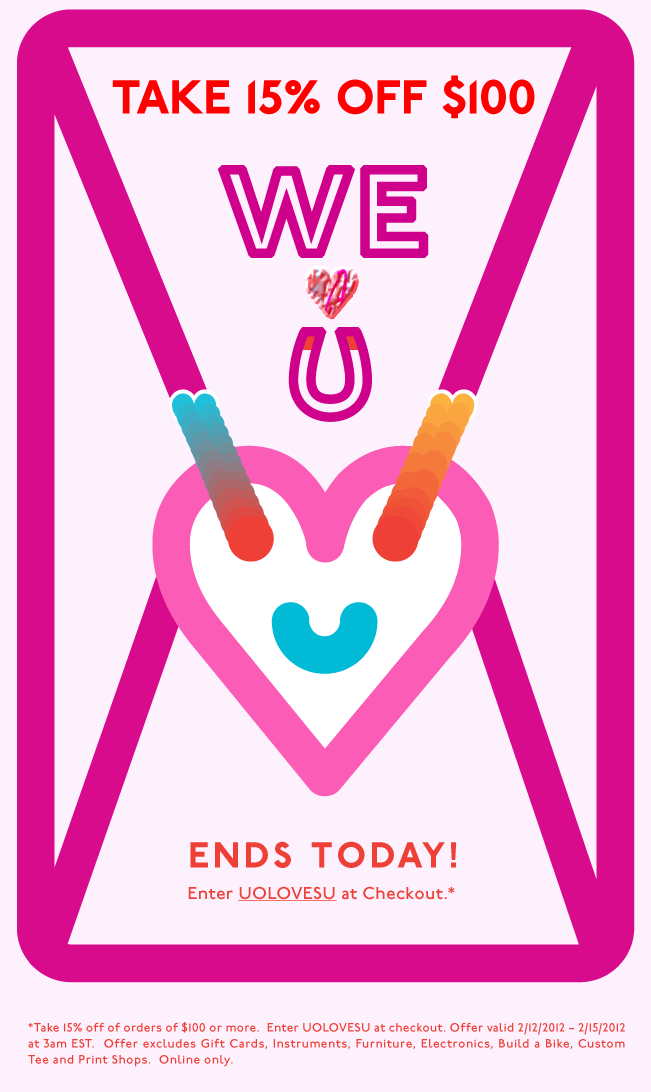 No 2: Animate your feelings.  
If writing isn't your thing, you can always choose to go with a catchy image or GIF - like this example from Urban Outfitters. Animation is starting to gain traction in emails, so it's always a good idea to add it to the campaigns really close to your heart!
But be careful: having such a graphics-heavy email will, however, make it important for you to add an extra incentive - like a special discount or free shipping - or a super-clear CTA to make sure your subscribers know you're not just trying to entertain them. So just add that, and you'll be good to go!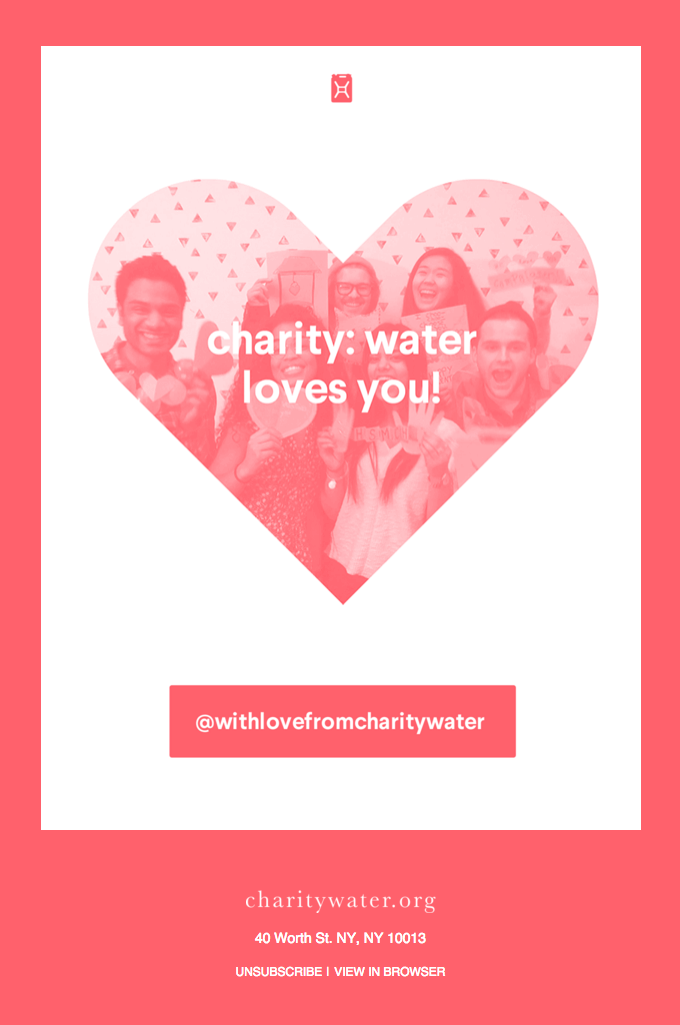 No 3: It's not (always) about the money.
Valentine's Day campaigns aren't just for online retailers and other B2C companies. You can also jump on the love-train and send a themed newsletter to subscribers if you work for an NGO or charity. Just like charity: water did it in the example above!
… And don't think that skipping the chance to actively convert your subscribers will damage your business. On the contrary, putting together such a newsletter will strengthen your relationship with subscribers and build your brand at the same time - a win-win for all!
Interested in learning more about email marketing? Then our Nordic market-leading Email Marketing Handbook is for you - get it now!

No 4: Adapt to your audience's needs.
B2B brands, just like nonprofits, can also jump on the Valentine's bandwagon - and without going all rosy and pink, too! This Modern Marketing Partners is a great example of using the Valentine's Day analogy to send a newsletter that works in the company's favour, yet does not go overboard - which would probably alienate its serious client base.
Because that's key: your subscribers' needs should always come first. If you work with other businesses, having an understated image and headline like above will do much more for you than sending something flashy but foreign to them, just because it's Valentine's Day.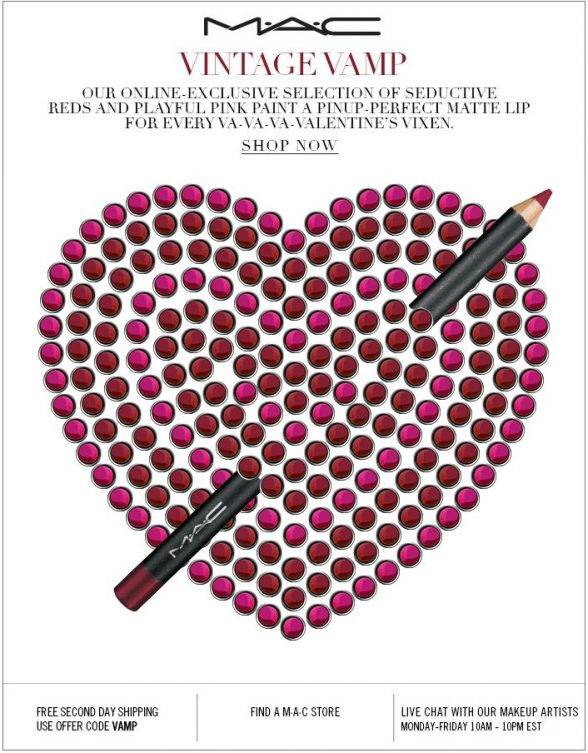 No 5: Use context instead of discounts.
One thing we hear often from businesses with tight budgets? "The reason we don't send special emails for Christmas/Easter/Valentine's Day etc. is because we don't have the money for special discounts."
That's a very valid point - but as you can see, sometimes all you need is to place your product or services in the context of the occasion. MAC obviously chose this because makeup and Valentine's Day have a very organic connection, even though they could probably afford an extra discount. So why couldn't you do the same?
Want to get some more email marketing tips? Get in touch with our APSIS Consultancy team - they live and breathe digital, and can't wait to help you out!