Sep 24 | 14 minutes read |
What is Electronic Direct Mail Marketing (EDM Marketing)?
EDM Marketing is still a fuzzy word in the digital world. You are most likely to have heard the term during your conversations with fellow marketers and are curious to find what it is all about. 
Using Email direct marketing will take your marketing strategy to the next level. Whether you are just starting off or just heard of what EDM marketing is, we will take an in-depth look into EDM Marketing, its benefits over email marketing and its use cases.
Definition of EDM Marketing
Electronic Direct Mail Marketing or EDM Marketing, is the strategy used by businesses to build a subscriber database to reach out to targeted potential customers through online and offline channels to build personal relationships, generate leads and increase sales.
Fundamentally, EDM Marketing strives to deliver your messages to the targeted audience through e-blasts through a multitude of marketing channels like print, SMS and Social media being some of them, of course, EDM marketing primarily relies on Email.
What is the difference between EDM Marketing and Email Marketing?
There is a general misconception that Email and EDM Marketing are the same and many people are puzzled to differentiate the two terms. Let us try and make it easy for you to differentiate the two, by explaining how email marketing and EDM Marketing works and how they vary from each other.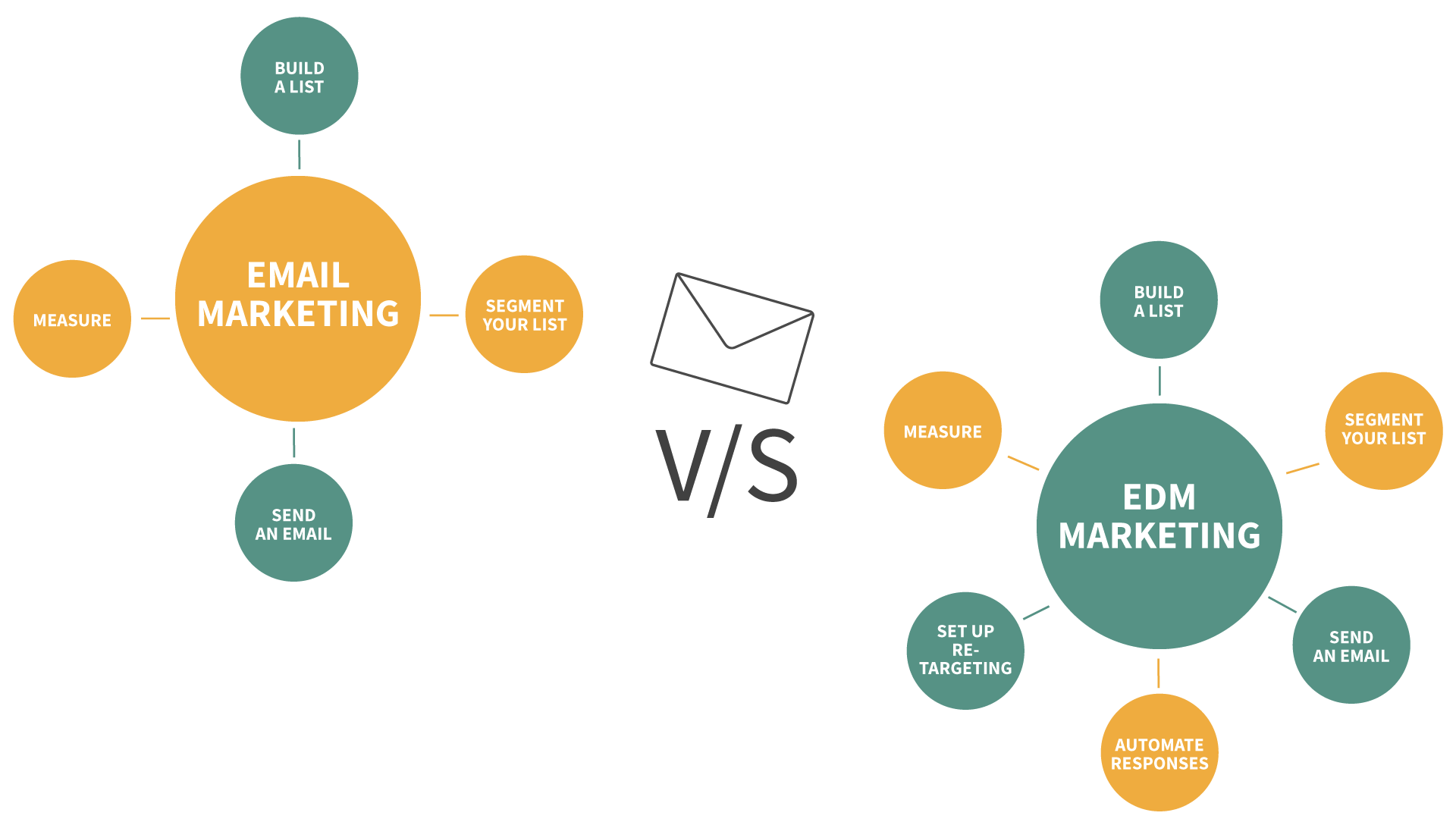 With Email marketing, you start by building a list of subscribers and then send email blasts using an email service provider, like APSIS One, and then hope for a good result. Though you have the analytics, provided by your email service provider, to measure and actively adapt your email strategy to the ever-changing trends, the scope of email marketing ends right there. 
With EDM Marketing, you do the same stuff as in email marketing. So what's the point in going with EDM Marketing you ask? 
When it comes to EDM marketing, Instead of just sending personalised emails you are primarily focusing on building a relationship with your subscribers through conversation and engagement, and then following it up with cross-channel retargeting campaigns, based on the behaviours of your email subscribers, to reiterate the message of your campaign. 
To be effective, an ideal EDM Marketing campaign utilises the following channels, apart from email,  
Pay Per Click advertising (PPC)
Remarketing
SMS
Social media and
Print media
Let us put this into perspective, the aim of both email and EDM marketing is to educate, engage and then convert subscribers into customers or to promote repeat sales & encourage brand loyalty. 
The advantage that EDM Marketing provides, over email marketing, is that it can be a flexible and powerful multi-channel campaign involving both online and offline channels.
How effective is EDM Marketing?
As we have discussed, EDM marketing builds upon the traits of Email. Electronic Direct mail marketing is probably the only channel that offers wider reach along with precise targeting options. 
It offers versatile segmentation, triggers content based on user behaviour and most notably offers unmatched personalisation capabilities.
The building block of EDM marketing is Email marketing. So, all the benefits that Email marketing has, apply to EDM marketing as well. Since, EDM marketing makes use of additional channels, other than email, it has some added traits.
1. Significant Reach
There would be an estimated 4.6 Billion emails in use by 2022. It signifies that almost everyone has an email ID to send and receive emails and enables them to access other digital platforms to interact with people and businesses. If you are keeping up with the best practices in email marketing, you will have an easy path of transition to EDM marketing.
What does this mean for EDM Marketing? Additional to the benefits of email marketing, you now have other online and offline platforms to reach your subscribers, which is significant.
2. Build Loyalty
If you have a mailing list, it means that people on that list like to receive your message and you can safely assume that they have an interest in your product or service. 
If you are not acting as a quirky salesman, and instead try to connect and build long-lasting relationships through the content you deliver, people are going to develop trust and will be happy to receive your message.
With the use of EDM marketing, you can reach those loyal subscribers in other channels like social media and even offline channels like TV, Billboards and print media.
3. Deep Personalisation
Email in itself is already versatile in personalising your content based on user behaviour. Generally, people tend to remember and appreciate a business message when it is personalised and tailored to their special occasions. 
In the case of EDM marketing, you have access to more touchpoints in addition to email and that provides you with an additional set of insights that you can use those data to further segment and personalise your subscriber list, to offer much more personalisation.
4. Attracts more traffic
When you are utilising multiple online and offline channels to deliver your message about a product, service or seasonal sale; you are going to be noticed by a lot of eyes. 
If you manage to spark curiosity or interest in people, you will see an increase in traffic to your online channels and an increase in footfall for your offline store.
5. Guaranteed increase in conversions
With EDM marketing, you can be sure that all the people on your contact list are interested in your communications. When you are working with such a highly interested group of audience, you are bound to generate a lot of interest for your product or service among them. While this may not immediately reflect in sales, they will surely be converting in the future as a paying customer. 
Additionally, with EDM you are going to make use of retargeting campaigns, to ensure that your message reaches your audience at the right time. So, the chances of a higher conversion rate in EDM marketing are more likely.
6. Increase Brand Recognition
The essence of EDM marketing is to use as many channels as possible to deliver the message of your campaign. When you are having a presence in both online and offline space, people are going to notice your brand more often, every day. 
As a result, people will be able to remember your brand and associate it with the qualities your brand is known for. 
7. Unmatched ROI
In email marketing, when you invest your time and effort to build a highly targeted list of email subscribers, you are setting yourself up for guaranteed success. But we get distracted by the metrics of other channels and go off track quite often, isn't it?
Traditional email marketing is still the topper when it comes to return on investment. In EDM marketing you combine all the benefits of multiple channels, to get a hefty return on investment. 
How to get started with EDM Marketing?
If you are already into EDM marketing or just starting afresh, and want to build a flexible strategy that scales up with you - you have landed in the right spot. Let us explore the process of developing a solid EDM marketing strategy.
1. Choose an email service provider
If you already put your foot into email marketing and have chosen an email service provider that works for you, you are off to a flying start. 
If you haven't decided on your email service provider yet, There are multiple email service providers like APSIS One, which is a complete marketing stack with automation capabilities that can easily do all the initial heavy lifting of integrating with your existing tools and presents you with the flexibility of being simple at the beginning and can scale up to be versatile as you grow. 
Keep in mind that the email service provider you choose should be something that works best for you. To find a marketing platform that would work for your needs, you would be likely to try out as many products as possible. Thankfully, APSIS One has a free 14-day trial for you to test its capabilities or if you are feeling chatty, book a demo to talk with our team of experts.
2. Build a list of subscribers
The next important thing you should have is a list of subscribers who are interested in hearing about the latest and greatest of things that you have to offer. 
If you already have an email marketing strategy in place, you should have a consolidated and up-to-date list of your contacts that you can use. But, if you are building a completely new list, you have the option of pulling the contact information into your email client through the integration. APSIS One can natively integrate with most of the popular CRM platforms, making things easier for you.
To give you an idea, there are some email list building strategies that you can take inspiration from, to come up with the strategy that would work for you, like
Free content: You can encourage your audience to sign up and get some interesting content, in their inbox, in the form of case studies, eBooks, free trials in case of a software product, media content in the form of audio or video and much more.

Offer a discount: You can choose to offer your audience a discount coupon when they sign up for your newsletter or create exclusive content in the form of a quiz or trivia to spice things up a bit.

Add Pop-ups to your website: You can add pop-ups to your website's landing pages and other important pages to let your visitor know about the advantages of being subscribed to your email list.
There are many more ways you can encourage people to board your email list. Be sure to follow the best strategies of email marketing to ensure you get an effective outcome.

 
3. Segment your subscribers
When you have toiled hard to get people into your mailing list, you have to ensure that you are sending the right content to the right person at the right time. Segmenting your email list can help you do this effectively. 
Segmenting is nothing but the classification of your email contacts into various categories based on various factors like
Demographics are the classified non-personal factors about a person such as age, gender and more. When you have these details, you can segment your subscribers and customise your emails based on age, gender and similar factors.

Geographics are the locational classifiers that can be used to group your contacts based on their physical location like country, state, city, region or zip code. These details can help you send region-specific offers to the right person or avoid sending promotions to people in areas where you do not serve.

Interests are the factors that identify the personalities of your contacts based on their hobbies, goals, preferences and more. This information can be a bit tricky to get, but it will give a useful dimension to your overall strategy. Oftentimes, you will discover that people with certain interests tend to like your product or service more than others. Getting to your subscribers' Interests can help you precisely target the interested ones.

Behaviours are probably easy to identify, as you are looking for the behaviour of your contacts in your website or other channels like email or social media. Some of the factors include the purchase history, purchase pattern, product preferences and more. Behavioural data can help you decide on creating a wider set of offers to match the type of audience you attract.
When you have a segmented list of your contacts based on their interests, demographics and behaviour, you can confidentially send personalised content straight into their inbox.
4. Create an email campaign with autoresponders
The next logical step is to create an engaging email campaign. Regardless of the email platform, you chose to go with, you will be better off by following the established good practices. Some of them would be,
Start with an amazing subject line and be sure to introduce yourselves.
Avoid chaos by making the content simple and easy to digest.
Create stunning visuals that match your message, to grab the attention of your subscribers. Do not go overboard, just stick with your brand identity for a consistent experience, across all of your touchpoints.
Be mindful of placing the appropriate CTAs at the right locations in your email. and,
Make sure you are having clear instructions for your email recipients to opt-out, at any time they wish.
With the above sorted out, you can send emails like transactional copies, behavioural messages that are triggered based on user activity, greetings on special occasions, reminders about upcoming events or abandoned shopping carts, promotions and other marketing contents.
Setting up autoresponders
When you create an email campaign, you will need to make it as dynamic as possible, to ensure you are not missing out on any opportunity to present yourself in front of your subscribers at the right time. This can be made possible with the help of autoresponders. 
An autoresponder is a program that triggers a personalised email based on the activity or special occasion of the subscriber. For example, a subscriber would get a welcome message with the necessary information just after they sign up. 
Some of the possibilities for using autoresponders are,
Special greetings
Transactional messages with receipts
Alerts or Reminders and
Product suggestions

5. Measure the results
Regular and frequent analysis of your campaigns is the best way to figure out how efficiently you are achieving your goals or KPIs. By measuring the performance of your campaigns across various metrics, you will get an insight into the possibilities of improving your existing campaign to perform better.
Some of the Key Performance Indicators (KPIs) that you should be tracking are 
Deliverability Number of successful deliveries of your messages into your contact's inbox Vs the number of contacts in your segmented list. 
Open rate is the factor that identifies how many people chose to open your email. If you are performing better than your industry average, you can assume that your content strategy is well received by your audience.
Click-through rate is the measure of the number of people accepting the CTAs in the form of links or buttons by clicking on them.
Unsubscribe rate is the rate at which your recipients choose to opt out of your campaign, based on the number of emails you delivered. The lower the unsubscribe rate, the better. 
Any email platform would be able to track and analyse the above-mentioned metrics in addition to some platform-specific metrics (if any).
6. Run retargeting campaigns
Depending on the findings of your analysis and the KPIs that you want to achieve, you can set up a complimentary retargeting campaign across multiple channels to improve the results. 
For example, if you have added a much-needed feature to your physical product or software, you can send emails to let the world know about it. After a while, You can then follow it up with supportive campaigns across other channels. Interacting through multiple touchpoints will help you ensure that you have created the necessary awareness among your community.
You have the option of utilising various channels like Pay Per Click (PPC), social media ads, SMS promotions, and print & offline platforms like Television ads, billboards, flyers and so on.
EDM Marketing use cases
Electronic Direct mail marketing is an improvement of email marketing. EDM marketing can be used in all areas wherever email marketing is feasible. 
Exactly similar to a typical email marketing campaign, you need to first outline a desired goal or purpose of the campaign and how you want your audience to react. Once you figure out your goals and CTAs, coming up with an EDM marketing strategy is as easy as 1-2-3. 
Going by the effective use of EDM marketing capabilities, eCommerce businesses are at the top of the list. This is because of the nature of their business model, any eCommerce business would tend to use all of the available marketing channels that are relevant to their area of service.
The following are the forms of communication that can be done with the help of EDM marketing.  
1. Special offers
With the use of the EDM Marketing strategy, you get to use multiple channels, both online and offline, to let people know about your seasonal offers. This would ensure wider reach and deliver a hefty ROI. 
2. Product launches
When it comes to product launches, you need as much exposure as possible to build awareness among people. There is no better way than EDM marketing to achieve this. You get to use print media, social channels and other platforms to deliver information about your newest product in town. 
3. Event promotions
When you are hosting events to announce something new or to celebrate the success of something, you must communicate with the relevant people at the right time to make sure you have the right audience in front of you, when you take the stage. 
EDM Marketing helps to deliver the event details to the targeted audience through multiple channels and even allows you to remind them in time so that they do not miss the event.
4, Newsletters
Your monthly, weekly or bi-weekly newsletters have to reach all the intended recipients in time so that it is relevant for them. EDM marketing strategy allows for timely delivery of your bulletins. 
Newsletters, in addition to just being emails, can also be in the form of magazines, flyers or news publications through print and online channels. 
In addition to the above-mentioned uses, there are some industry-specific applications such as abandoned cart reminders,  in the case of an eCommerce business. And, case studies or client testimonials come in handy, for a B2B entity, that can either be shared online or through conventional print media.
The true beauty of EDM marketing is in its versatility, that it can host various channels of marketing based on the needs of the business. If you are frozen in the middle of nowhere and would like to have expert guidance, book a demo to get personalised guidance from our team of experts.