May 02 | 4 minutes read |
Getting Started: 8 Tips to Ace Your SMS Marketing
It's hardly a secret that SMS is a stellar channel to create customer engagement. With this said; to open the SMS doesn't mean that the customer liked your initiative. If you lack a well thought out strategy, you might come across as slightly intrusive when texting your audience.
 
However!
SMS is an effective marketing channel if you follow a clear strategy.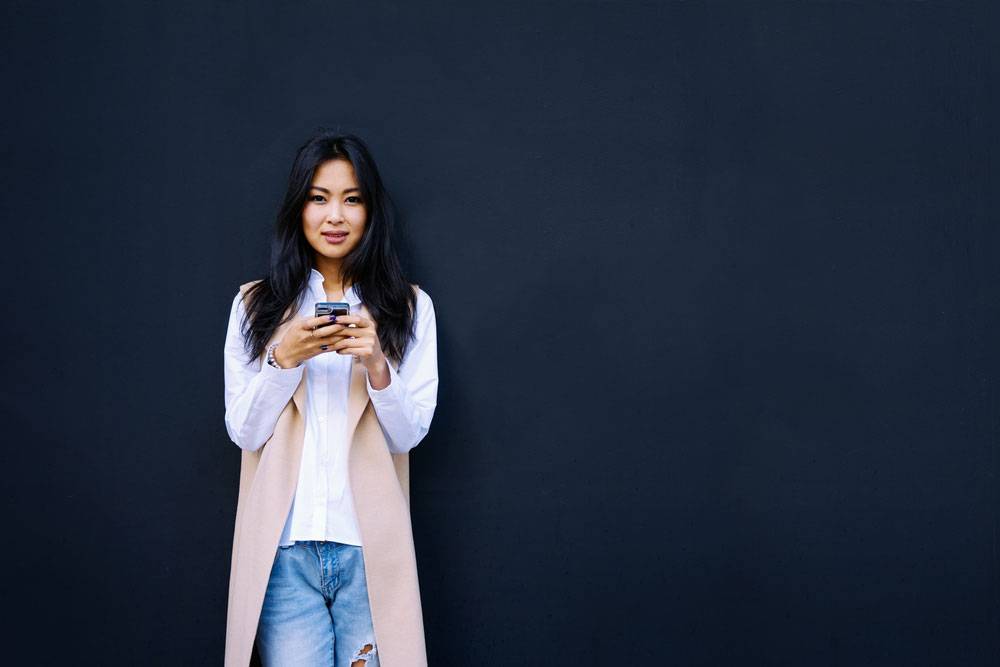 So, what does it take to get it right? The answer is as drab as the question: your messages need to be relevant.
Are you about to send an informative service message? Or pushing a new campaign offer? No matter what you send, your customers will ask themselves one single question: Is this relevant for me? 
If the answer is yes – the road towards goal completion is smooth sailing.
However, in order to achieve relevance you need to gather and analyse customer data. Apart from the obvious – their mobile phone number – you need a handful of data points that enable you to segment your lists and thus sharpen your messages.
Do you have the data and a strategy in place? Great! Here are eight quick tips on how you can make SMS marketing flourish.
Tip #1: Segment Your Lists to Boost Your Offer
A major advantage of SMS is that you swiftly can reach your customers with your offers and campaigns. With this said: every offer isn't relevant for each and every customer. And some people are extra sceptical and picky when it comes to text messages.
The fix? Use a couple of data points that indicate that the customer is ready to hear your out. Last purchase, opens, clicks and demographic data are all examples of insights that'll steer you in the right direction.
Tip #2: Simplify the Purchase
M-commerce is growing at record speed. Consequently, SMS rises as an instrumental tool for driving traffic to your site. Make sure to include a short and simple link or discount code that directs the recipient to your mobile-friendly website.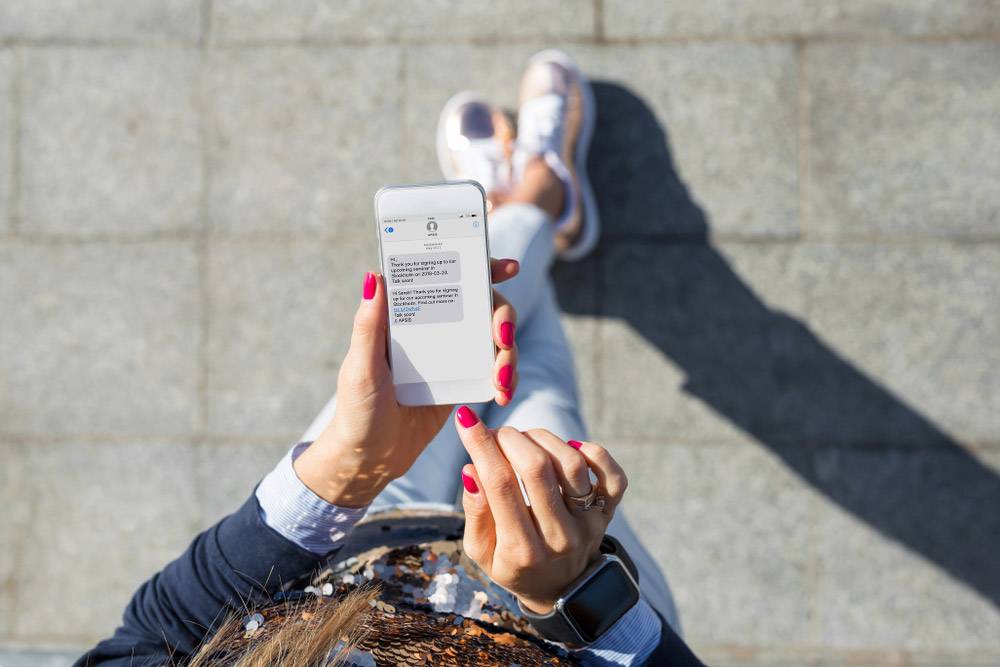 Tip #3: Give Recipients the Option to Opt-Out
Have you done your homework and created great segments? Awesome! However, even though you've done your best to tailor your sendings to accommodate your recipients, there are still people who simply don't appreciate commercial sending through SMS. The fix? Make sure to include an option to opt-out. 
Tip #4: Make SMS a Natural Part of Your Events
Everyone who organises events knows a thing or two about a last-minute change of plans. Delays, schedule updates, reminders – you name it! In these cases, a quick and easy text message is the perfect way to reach your recipients – regardless of their whereabouts. So, make sure to ask for attendees' cell phone numbers when they fill in the registration form!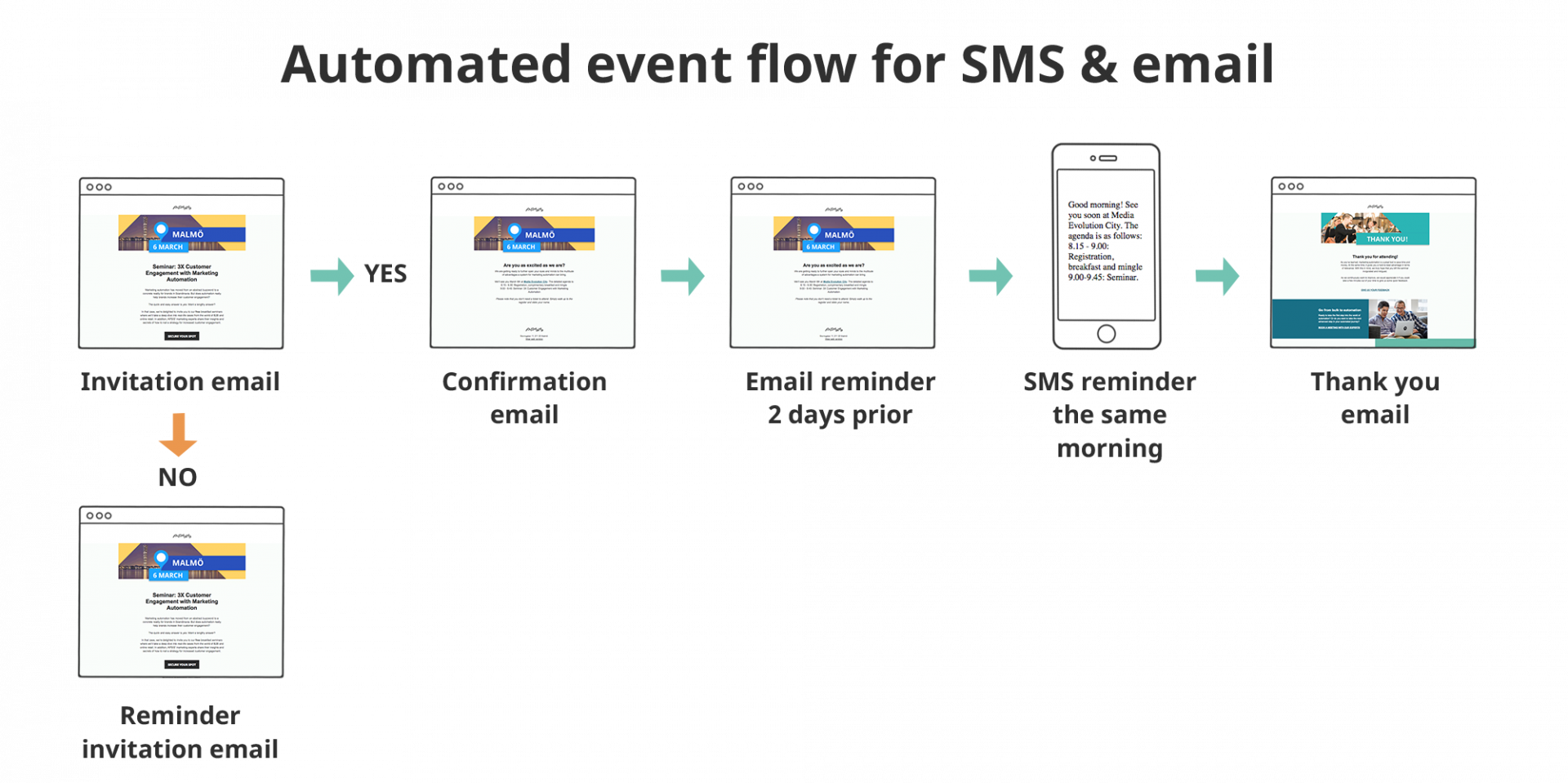 Tip #5: Send a Friendly Reminder
Most of us lead hectic lives with calendars filled to the brink. To miss an appointment is hardly uncommon – although frustrating. However, with a friendly reminder the day or a few hours prior the meeting you decrease the risk of a momentary memory lapse. The key? Make sure that you send your reminders at a good time, and be clear with the practical details such as time and location.
Tip #6: Keep It Short and Concise
The standard length of a commercial SMS is 160 characters. This means that you're put under pressure to formulate copy that's both concrete and relevant. Of course, it's impossible to include every single bit of important information in an SMS, so you should include a link that redirects the recipient to a landing page that contains all the necessary information.
Tip #7: Be Personal – But Don't Overstep Boundaries
SMS is by nature a highly personal medium. Just because you choose to use SMS, it doesn't automatically mean that your company and the customer are best pals. So, choose your emojis wisely and align your communication with your company's tone-of-voice.
Tip #8: Schedule According to Customer Behaviour
Even though each customer has a unique set of preferences, you can find common denominators in their behaviour as well as their purchase cycles. With the right kind of analysis, you can predict when the customer might need to replenish. For example: if you're a hairdresser, you might know that your customers usually return within seven weeks. Why not schedule an SMS to go out after six weeks to remind the customer that it's time to get rid of those gnarly split ends?
Want SMS to be a natural part of your marketing strategy? Find out how we can help you achieve your goals!