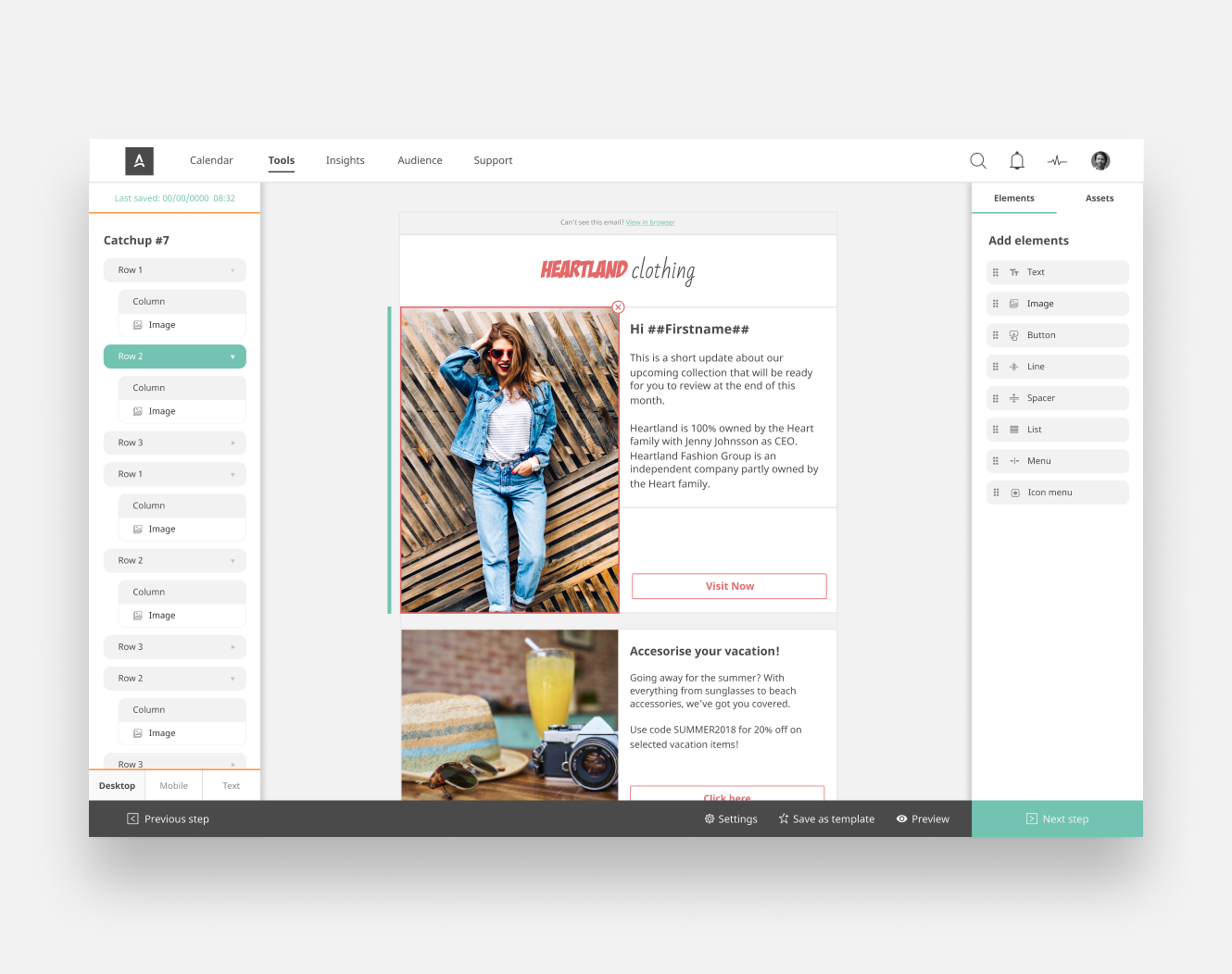 Personalise to engage thousands
Outperforming any other tactic at a fraction of the price, email marketing is the smart way to craft engaging and personal dialogues with people who want to hear from you. 
Beginner or pro—doesn't matter. APSIS One makes it easy to use data to create stunning emails your audiences can't wait to click to open.
Bump your relevance
Create on-brand emails that inspire, engage and leave a long-lasting impression. 
360 Campaign marketing
Get to know your audiences real-time from CRM, web and event data and engage with automated & tailored campaigns.
Optimise your ROI
Stay in touch with your audiences without worrying about credits or any other marketing spend.
Discover how we can meet your company needs
Image
Image
Image
Image
Image
Discover how we can meet your company needs
Drive to cart
Use relevant email, recommendations & SMS  communication to drive the right offers at the right time.
Increase conversion
By winning back lost carts by up to 20%.
Connect and leverage loyal
Get to know your shoppers and segment your emails to engage from first hello to upsell and loyal VIP.
Segment with desire 
Use web affinity to personalise offering with a relevant offer, layout and dynamic pricing.
Boost engagement
Increase the likelihood of a first, second and third sale with personally relevant ideas and deals.
Build loyalty
Maximise the experience with automated welcome and post purchase flows to drive ROI.
Increase email conversions
Set your email strategy and create branded and relevant emails for every step of the customer journey.
Get return on investment
Focus your resources on people who want to talk–without worrying about the marketing spend.
Increase loyalty
Get to know your audiences and personalise your loyalty programs to maintain a direct, active and relevant dialogue.
Stay top of mind
Set your email strategy and create branded and relevant emails for every step of the customer journey.
Get personal
Get to know your audiences and promote content that builds relationships and increases sales.
Boost your ROI
Nurture leads, prospects and customers without worrying about credits or any other spend.
Get your message across
Get your members informed by sending consistent on-brand emails that are easy to navigate and read.

Create personal engagement
Boost conversions and retention by segmenting your emails according to membership activity or type.

Communicate cost-efficiently
Get new members or keep contact with the ones you have without worrying about marketing spend.
Web behaviour driven emails can contribute to increased sales (source: Aberdeen Group)
5% reduction in churn can mean up to 25% in profit (source: Harvard Business Review)
Extra additions to cart (source: Harvard Business Review)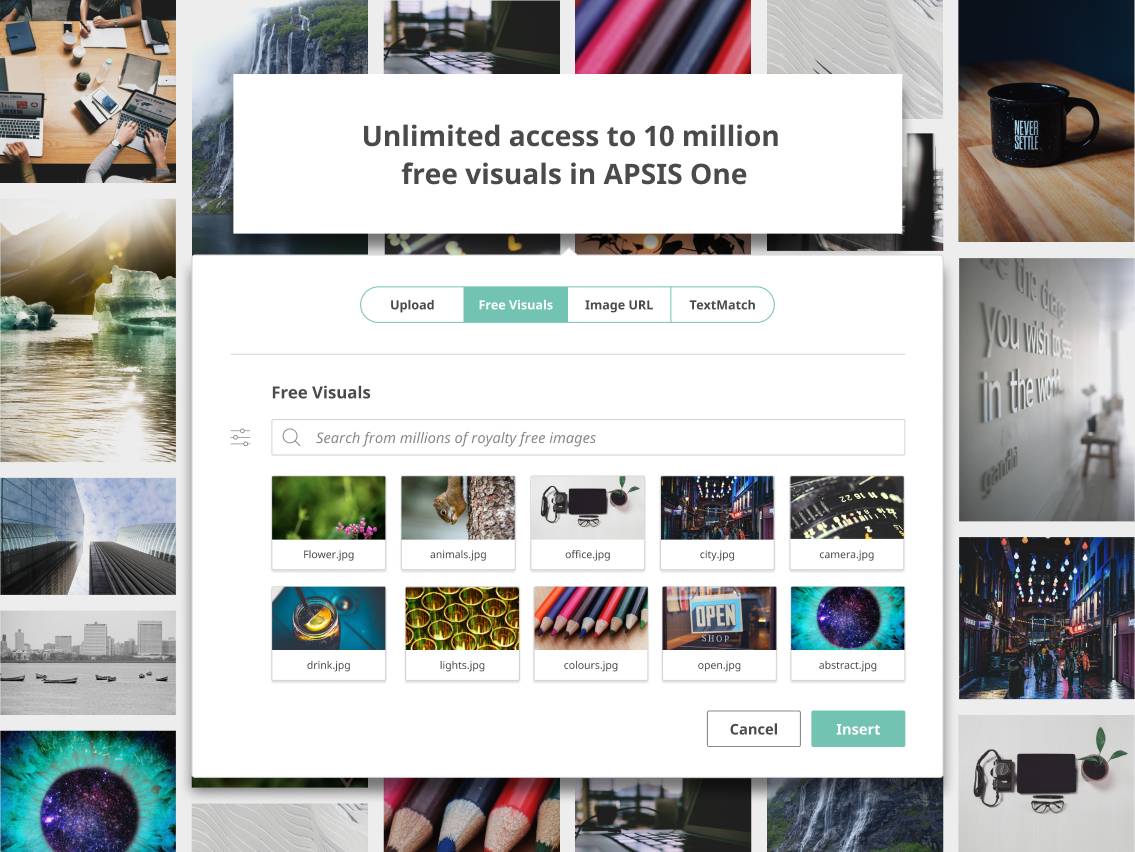 Let AI find the perfect image to support your message
APSIS One include an integrated image library that gives you free and unlimited access to + 10 million photos, icons and illustrations.

The Jumpstory integration has plenty of cool aspects for designers and email marketers. A personal favourite of ours is the TextMatch feature. This feature allow you to select any text area (a headline, subheadline or paragraph) and then let an AI come up with suggestion of relevant images that you can cherry pick.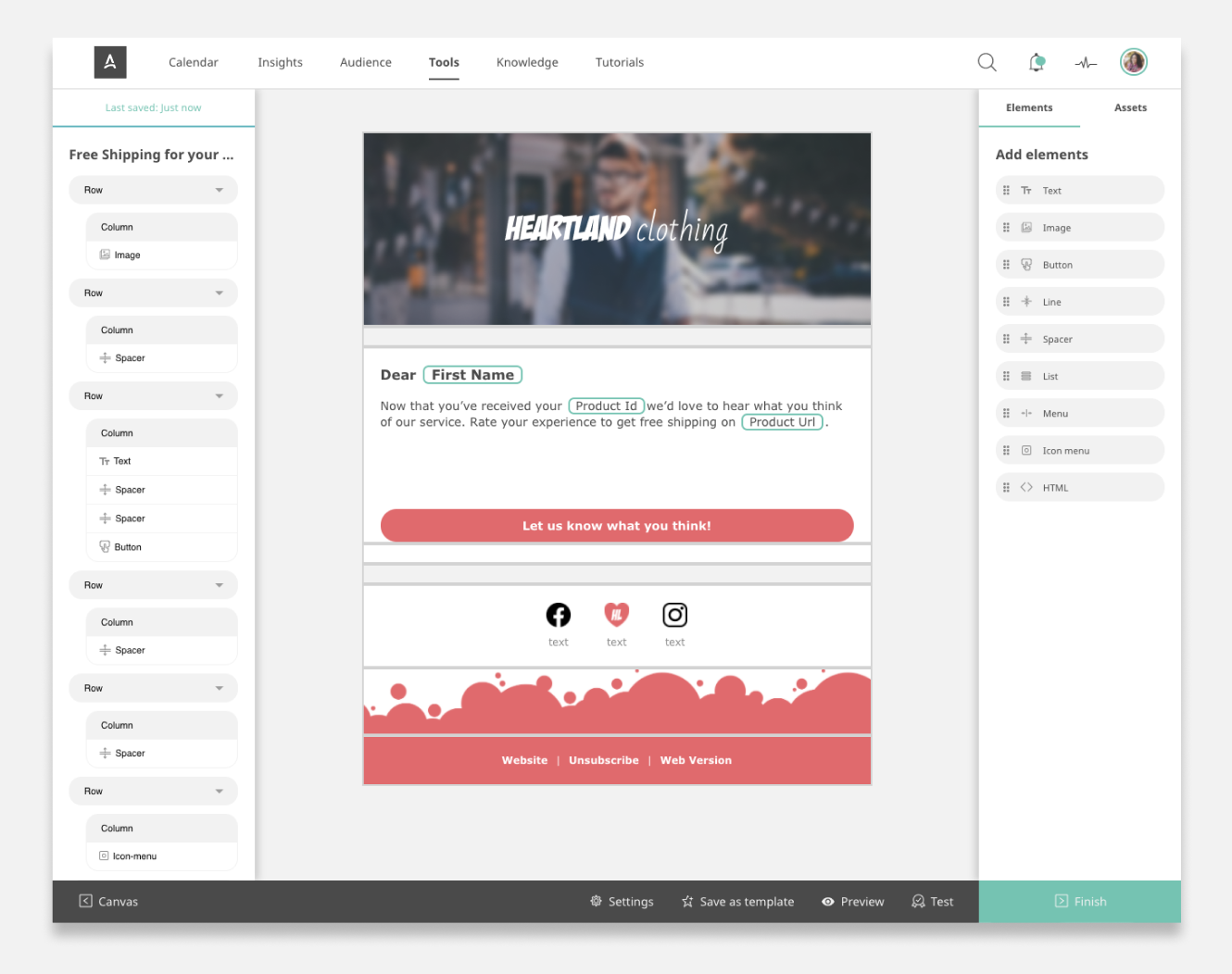 Email marketing isn't what it used to be. It's better!
Email has long been the emperor of marketing. But the emperor's got new and improved clothes. Jolt your basic newsletters into the next data-driven generation with APSIS One and its Email tool.
Easy segmentation for efficient targeting
Gather cross-channel customer data into unique customer profiles, and segment your audience according to their activity. Get started quickly with pre-defined segments or create your own.

Personalise your emails
Go from impersonal bulk to lean personalisation. Boost the email experience and increase conversions by choosing what content to display to which segment. Add Data Tags for that final personal touch.

Email editor created for pros and newbies
Great visuals shouldn't be exclusive to pros. Design pretty and precise emails with pre-defined templates–or create your own with a few drags and drops. Use creative Assets for speedy creation and cohesive visual brand identity. 
Grow your subscriber base and manage consent
Create smart sign-up bars and forms in minutes to continually grow your subscriber base. Easily manage consent, permissions and data to keep up to date with GDPR.
Create campaigns people will love
Get to know what your subscribers like and dislike by analysing opens, clicks, unsubscriptions and conversions. Optimise, refine and spend time on campaigns that work.

Automate emails to do more with less effort
Engage, nurture and get relevant in real-time. Create emails and use marketing automation to target your audience at the right place, the right time, and with the perfect message. Sit back and let the automation do the heavy lifting.
Increase sales with personalised product recommendations
Inspire and engage by promoting the right products. Create crowdsourced or personalised product recommendations in minutes, and drag them into your email to improve the click-through rate, basket size and average order value.
Integrate systems to maximise email relevance
Align your emails with every customer journey. Sync data and use the intel from your CMS, CRM or e-commerce platform to trigger and promote the perfect content, offers and recommendations to the right people.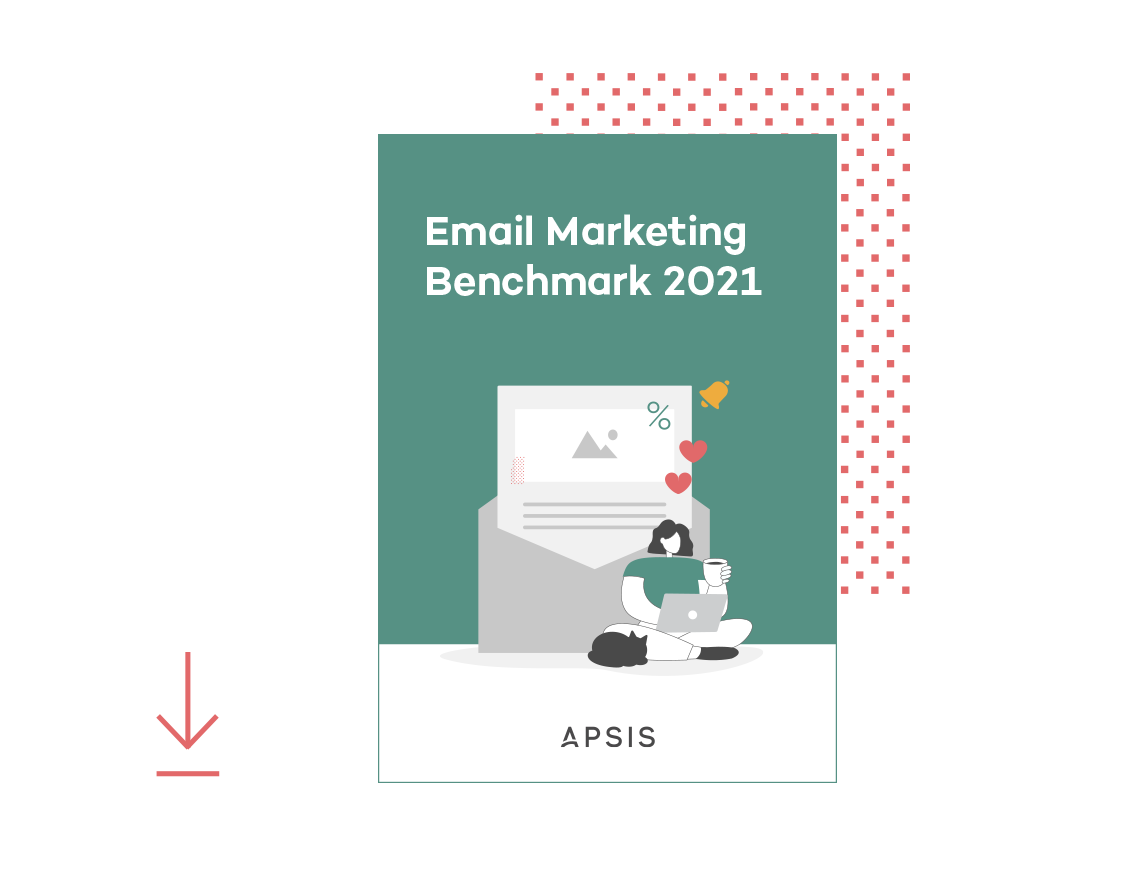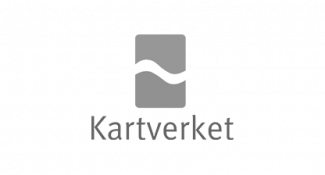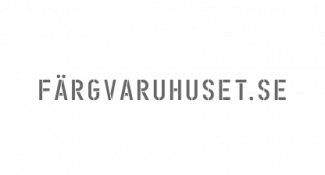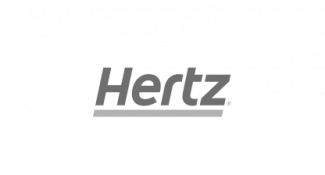 The APSIS One Email tool enables us to personalise our content with great design, and improve our results with every newsletter. 
The APSIS One Email tool will make it easier for us to create better emails, which increases the probability that our subscribers will open our emails, visit our site, and purchase our products.
The APSIS One Email tool is intuitive to use, and offers greater flexibility to be creative with our email marketing. The tool allows us to work more quickly, and develop more content in-house. 
Want to know more about the value of email marketing?
Image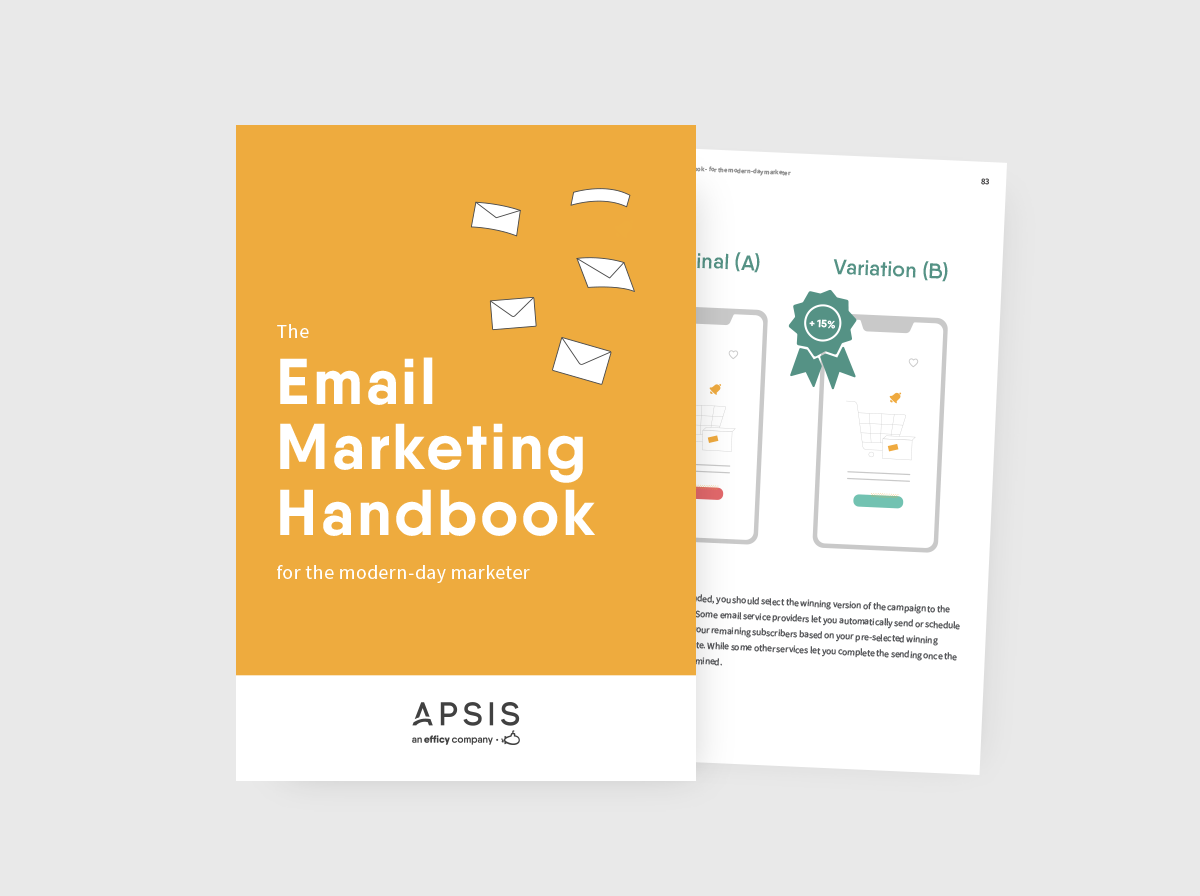 The Email Marketing Handbook
Image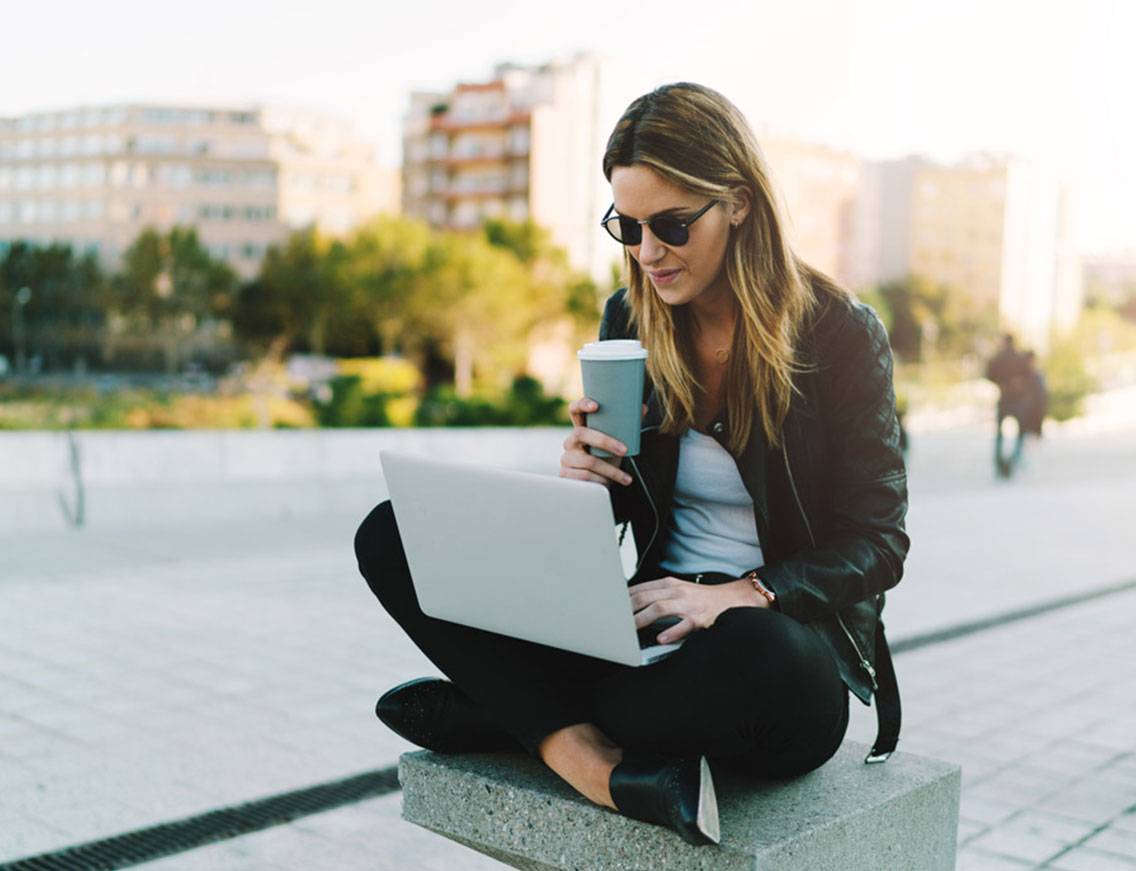 APSIS Extensive Library on Email-marketing
Image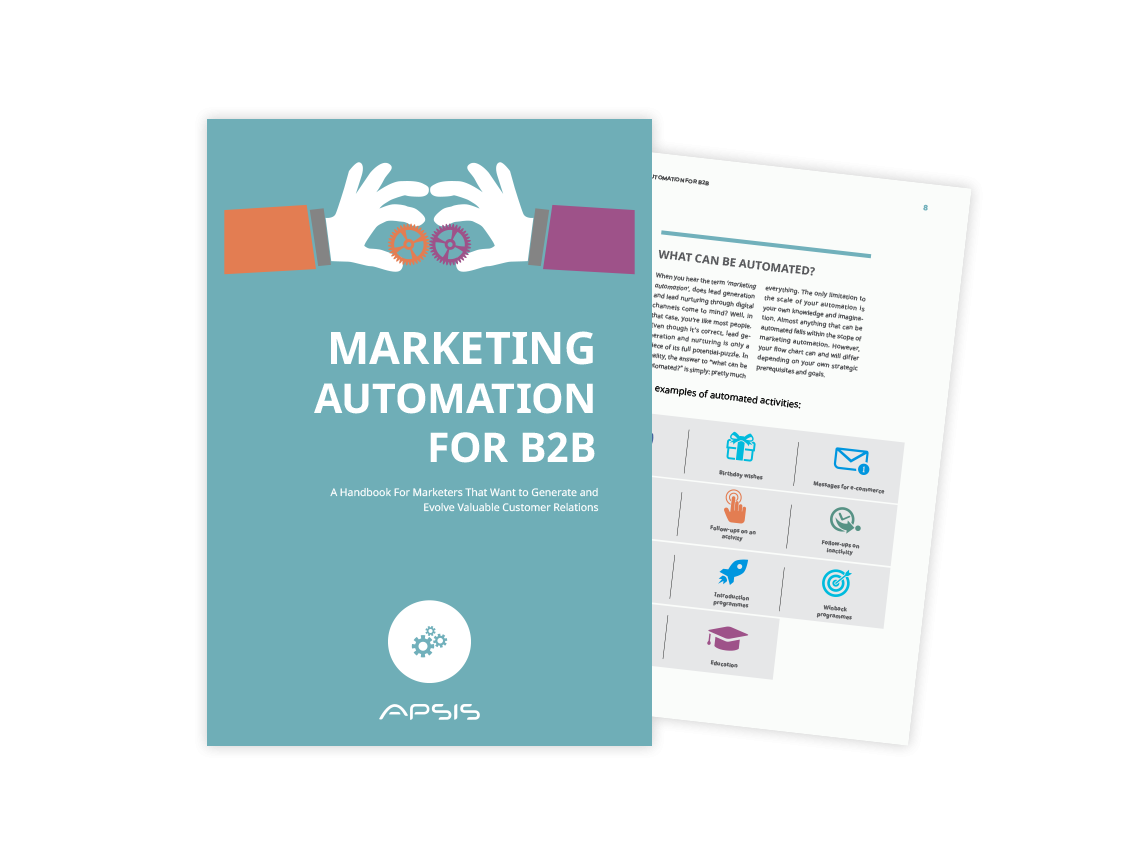 Marketing Automation for B2B