Mar 03 | 6 minutes read |
3 Larger-Than-Life Marketing Automation Examples
If you've been keeping up with the latest trends of digital marketing during the last decade, you probably haven't missed the BIG marketing automation hype.
In the US (which is often one or two steps ahead of Europe), marketing automation had its major breakthrough around 2010. Since then, the concept has crept into Scandinavia as well, although it didn't hit the mainstream marketing scene until the end of last year. 
Which is why, to some ears, marketing automation may still sound a bit fresh and advanced. But in reality, it's quite simple: the purpose of marketing automation is to make marketing and sales processes more effective - with automation.
...If we transfer this idea to a communication model, you could say that marketing automation is simply a way of sending the right message to the right person, at the right time.
Automation (and the increased efficiency accompanying it) may not convince digital marketers who value their creative freedom and gut feeling. But the results for those actually working with it is too good to ignore:
• 74% of the companies using marketing automation claim they that send "more relevant messages" to customers
• 80% of the companies increase their number of leads, and 77% increase their number of conversions
• 32% of the companies increased their revenue after one year, and 40% reported increased conversions after two years
The conclusion? Marketing automation generates more leads, creates more relevant messages and drives revenue.
So why is it that many marketers haven't even started with it yet?
I believe that there are two reasons behind this: a need for more knowledge on what to actually automate, and to correct the many wrong expectations marketers have of technical platforms.
Marketing automation: more than just a software
Many marketers tend to think of marketing automation as a plug-and-play solution that will "make automation happen" for them. Whereas the truth is that you can invest in the most advanced software solution in the world - but it will be worthless unless you put some smart strategy and thinking behind it! It's like buying a Tesla without the batteries: the best you can expect is the admiration from those who walk past your driveway. 
If you really want to get started with marketing automation, you need to know what (and why) to automate in your marketing or sales process. Do you want to engage inactive customers? Do you want to create better timing in your sales process? Or do you want to get your customers on board more smoothly and easily? 
When speaking at marketing events, I often notice that some marketers have a very narrow idea of what marketing automation actually is. In reality, marketing automation can be used in many different ways, and involve almost every marketing channel. It can be done using social media, web personalisation, SMS and even in classic print media! 
That said, email is the channel that can generate the highest ROI - and it perfectly fits the general idea behind marketing automation.  
How, do you ask? Exactly why I've picked 3 real-life examples to demonstrate how companies have found creative solutions to challenges that almost every B2B marketer faces today. Full disclosure: my idea was to illustrate the mind-set (rather than the technology) behind their successful use of marketing automation. 
Example #1: From Trial to Paying Customer
SaaS companies often let potential customers download a free version of their software. If you're curiously inclined (like me), you've probably downloaded at least one of these free trial versions before and played around with it, only to leave it once the trial period is over. So it's easyto understand how a lot of companies struggle to convert these trial users into paying customers. 
This particular company was no exception. To get more people to actually buy their product, they decided to set up a flow for marketing automation. The idea was to base the automation on the user's reported activity in their solution. This is what the flow chart for their automation look like.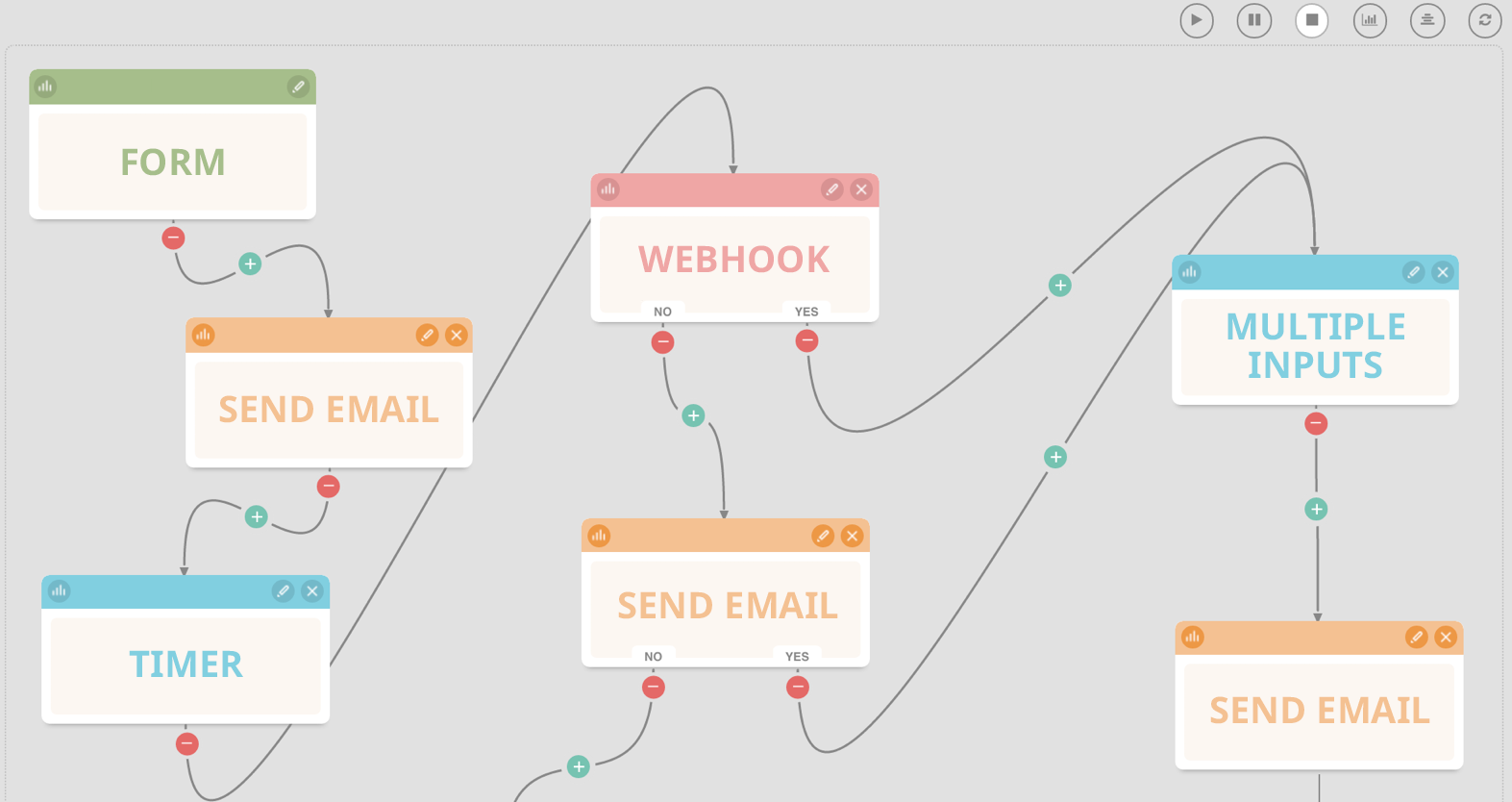 By connecting their cloud solution to a marketing automation software, they were able to send messages that felt more relevant for the user. The flow started once someone decided to download the test version, while those who did not do so within the next five days received a friendly reminder. Then, a new email was triggered once the user was up and running, containing further information about the benefits of the product. 
As a result of this strategy, this company was able to turn significantly more test users into paying customers. Meanwhile, both the marketing and product development teams got rich insights into how their customers engaged with their product. 
Get a sneak peek of the all-new APSIS Marketing Automation!
Example #2: Reducing Churn 
This example (which also concerns an SaaS company) illustrates the need to reduce customer churn. The company had realised that those who didn't use their product could easily end up leaving the company. With this insight, the company decided to use marketing automation to target their inactive customers. Their marketing automation flow looked like this:
This flow was applied to all customers who were at risk of leaving: an automated email was sent to those who hadn't been active for 30 days. If the customer still hadn't used the product during the next two days, an automated notification was sent to their customer service team. The team then got in touch with the inactive customer, who asked them how they could help to engage them again. Thanks to this flow, the company reduced customer churn and managed to create a closer dialogue with existing customers. 
Example #3: The B2B Company with a Long Sales Cycle
The sales cycle in B2B companies can be pretty long, and often involve several stakeholders within the buying company. Sales processes usually move along in small steps, while the buyer successively evaluates the pros and cons of the product. This is why B2B marketers needs to guide and qualify their leads before handing them over to their sales teams. 
In this example, the company decided to nurture their leads with whitepapers and other relevant content, in order to create more Sales Qualified Leads. This is how their marketing automation flow looks like: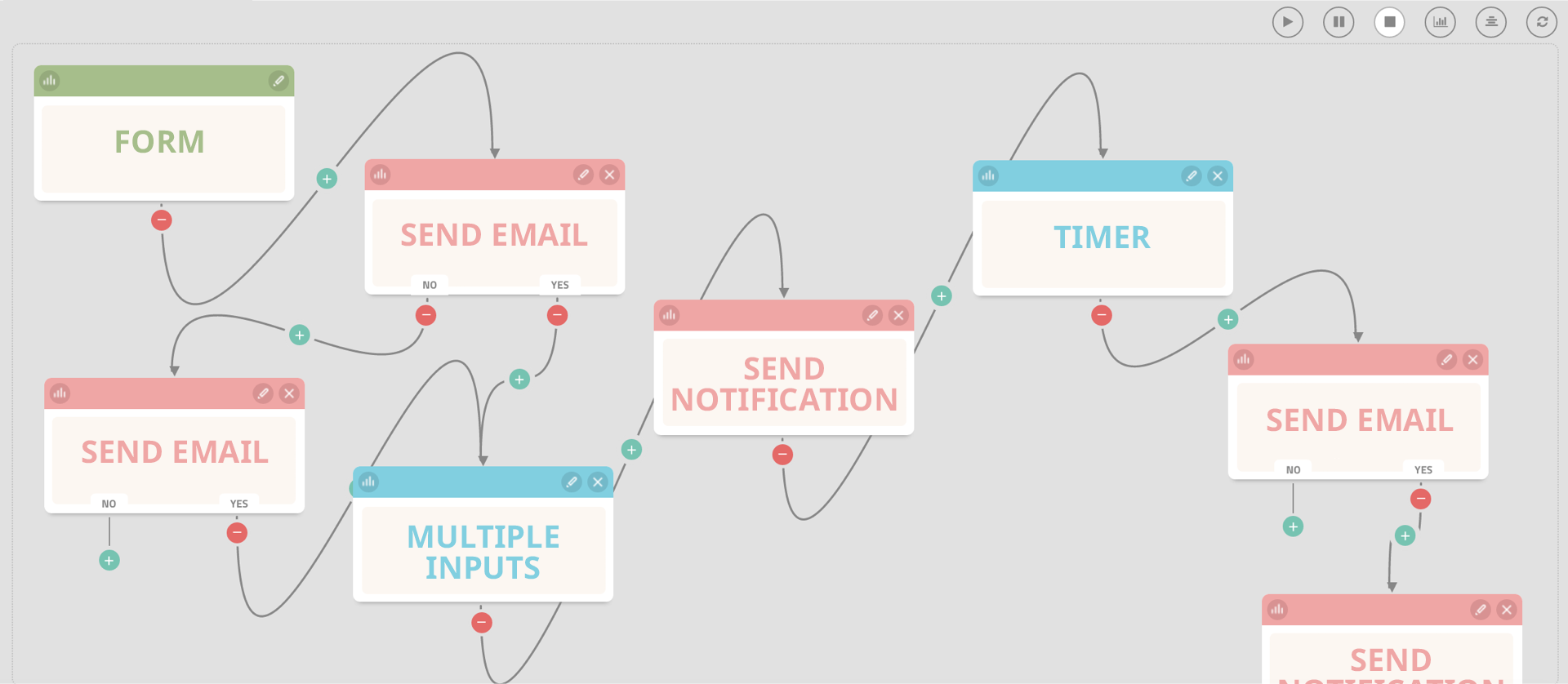 The flow was triggered once a lead filled in a form to receive a whitepaper or handbook in their inbox. If the reciever decided not to open their email, the flow triggered a friendly reminder. Once the email had been opened, the lead continued its journey within the flow, with the company automatically pushing content with further information about the product (and other information relevant to the specific lead).  
As a result, marketing and sales teams started working closer together to provide a more effective lead nurturing process. The sales team got high-quality leads, and the marketing team could deliver more relevant messages throughout the sales process.
So what can we learn from this?
These three companies all have one thing in common: they identified a problem and then used marketing automation to aid their strategy and solve that problem. If you want to get started with marketing automation, you should use the same method! Start looking for things that can be improved in your current digital marketing, then use your creativity to find out where automation can help you move forward. Best of luck!