Watch our digital marketing webinars
In order to view videos on our website, you must allow cookies, this is because we have adapted our website in accordance with the GDPR.
Create impactful events with just a few clicks.  
Unlock seamless event management and wow attendees with the new, intuitive Event tool in APSIS One. 
Manage all your events in an easy-to-use interface
Automate your event communication
Use templates for registrations, confirmation, and reminder emails
Expand your marketing toolkit from online to offline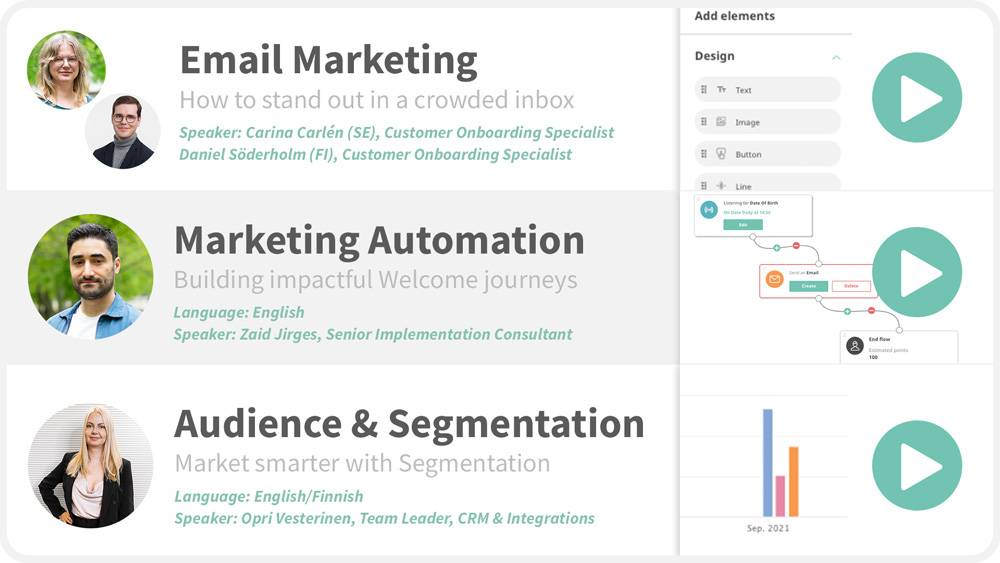 APSIS One refresher training course x3
APSIS Consultancy is here to assist you!
Discover the basics of marketing automation, email marketing, and audience segmentation. Choose one or all three web training courses below to refresh your knowledge of APSIS One tools at your own pace!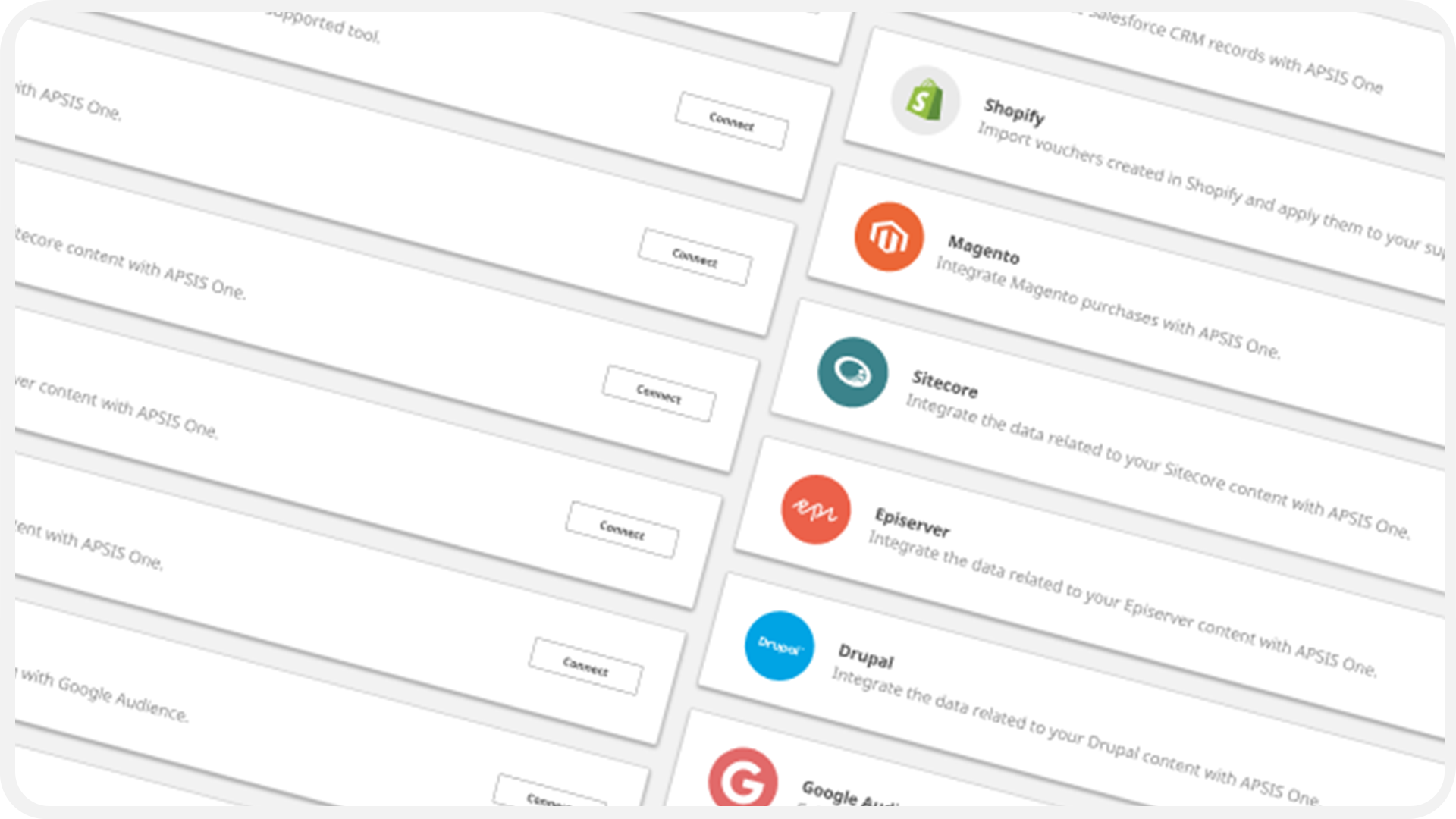 Our integrations webinars
Put an end to disconnected insights, data silos, and inconsistent customer journeys. Discover the benefits of integrating your favourite web services or apps to APSIS One, and learn about Microsoft Dynamics, webCRM, and more!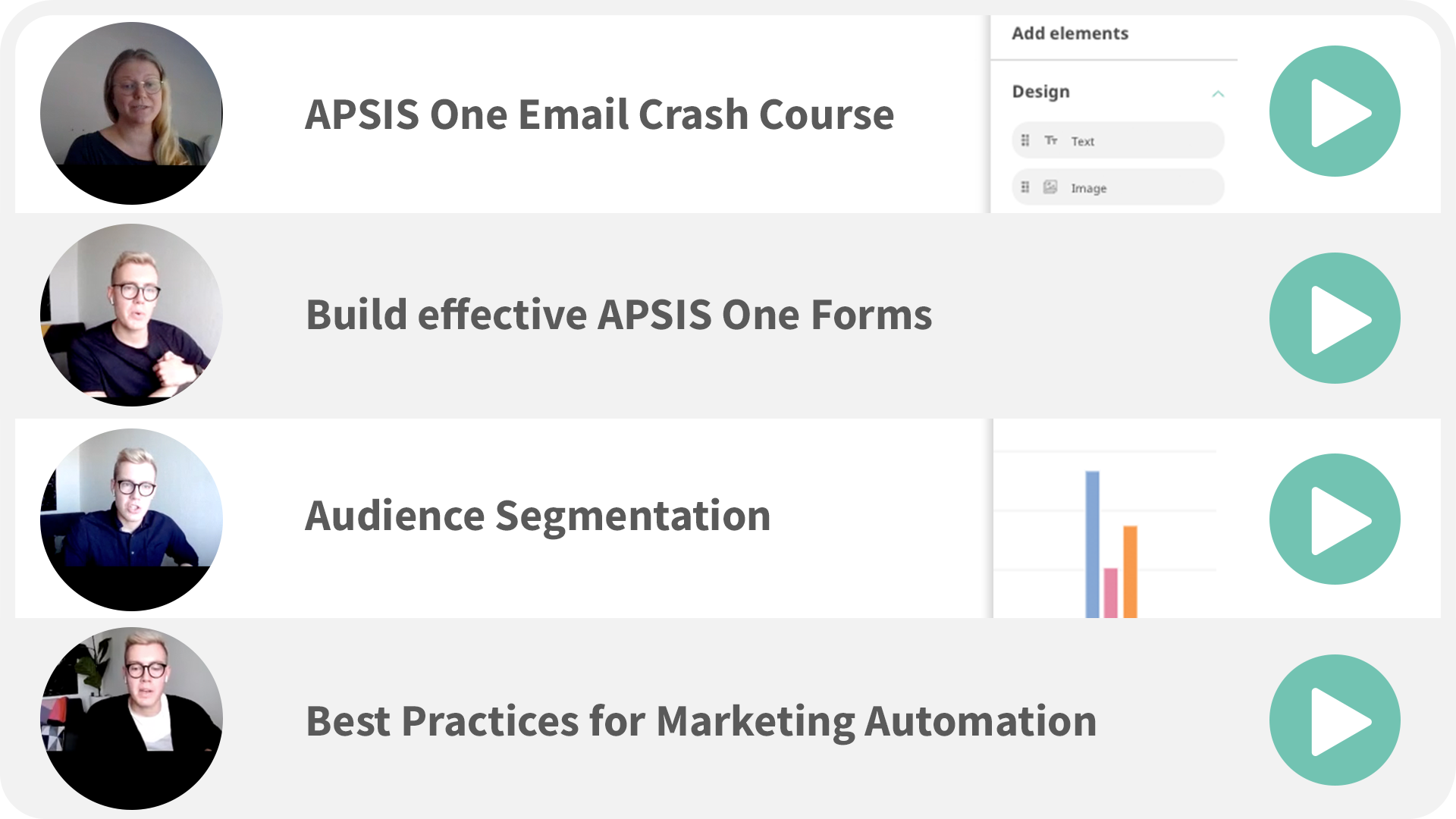 APSIS One refresher training course x4
APSIS Consultancy is here to help! Learn about marketing automation, email marketing, creating smart forms, and audience segmentation. Choose one or watch all four web training courses below to get a refresher on APSIS One tools - at your own pace!
The Power of Visual Marketing
Visuals are powerful tools for successful marketing. That's why we teamed up with the Danish start-up company JumpStory for this webinar. A session that will focus on eye-opening insights about visual marketing and how images can impact human behaviour to increase conversions.
Beginner's Guide to Marketing Automation
Delivering the right message to the right person can be tricky. That's why this webinar will start by answering the most burning questions around marketing automation, followed by the crucial steps you need to take to become a true marketing automation hero. Want to see flows designed for B2B or B2C? You can pick your track at the end of the video.
Why Data is the Future of Digital Marketing
Do you experience problems with gathering all your data in one place? Are you struggling with creating personalised experiences for your target group? Or do you wonder how to continue improving your data-driven journey? In this webinar, we'll illustrate how to enable a unified customer experience and why data is the future of successful marketing.
Decoding relevance: How to maximise your impact with customer profiles
Personalisation is key to capture the attention of your target audience. But how can you personalise to maximise the results of your marketing efforts? In the following webinar, we'll decode the answer and present how you easily can collect and analyse all your data using a Customer Data Platform.
Omnichannel: Building Consistency Across Channels
As the customer journey becomes increasingly fragmented, marketers need to be able to offer seamless customer experiences – wherever and however customers reach out. That's why this webinar will focus on the possibilities of omnichannel marketing and how it can improve your business.
Marketing automation and the person behind each click
Digital marketing is not always a walk in the park. That is why we'll address one of the major pain points of digital marketing: how to achieve personal relevance. But we'll also take it one step further and introduce how the combination of marketing automation and customer profiles leverages an unbeatable sense of personalisation.