Apr 11 | 5 minutes read |
The 360-Degree Customer View: Customer Profiles and Marketing Automation
Creating customer profiles = taking one step towards the "segmentation of one".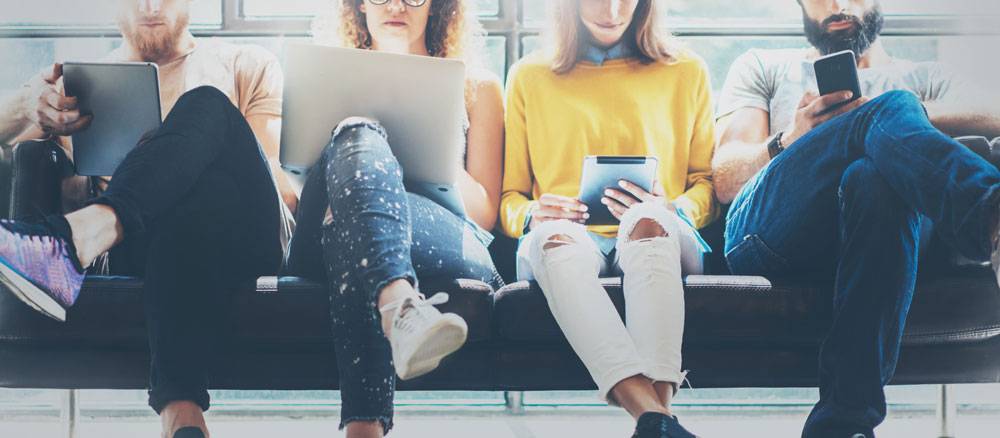 Think about it: profiles pinpoint your customers' pain points, and merges demographic and psychographic data into ideal and actual customer personas. 
However, if you marry customer profiles with marketing automation, your personalisation and lead generation can be taken into new heights. How? Let's see! 
In the middle of something? Here's what this blog post will be about:
• Customer profiles are a way to make sense of a customer's demographic and psychographic traits
• Marketing automation streamlines complex processes like lead generation and nurturing by sending out triggered behavioural emails
• If you merge customer profiles with marketing automation, you'll be granted a 360-degree view of your prospects and customers
• The marriage of these two marketing methods will enable you to send out valuable and timely content...
• … which will engage active customers and lead your prospects down the sales funnel
A Quick Brief: What are Customer Profiles...
Bluntly put, a customer profile is data-driven stereotyping of your customers. It helps you as a marketer to further understand your customers based on actual demographic and psychographic data, with the end goal to increase sales by elevating the customer experience through personalisation.
A customer profile is extracted and continuously (de)constructed based on retrieved customer data. By knowing what different consumer profiles you can allude to, you can speak with your audience in a way that appeals to their needs.
… and Marketing Automation?
Marketing automation streamlines complex marketing processes such as lead generation and nurturing. If done right, marketers can use it to deliver personal shopping experiences through triggered behavioural emails. 
It also automates manual and time-consuming marketing activities, and frees up time to delve into non-automated marketing tasks, while boosting leads down the sales funnel into sales-ready customers. 
As a matter of fact, with the help of marketing automation, your sales productivity can increase by 14.5%. As a direct result, your marketing overhead will be decreased by 12,2 % (https://alltopstartups.com/2017/01/10/use-automated-marketing-to-improve-customer-experience).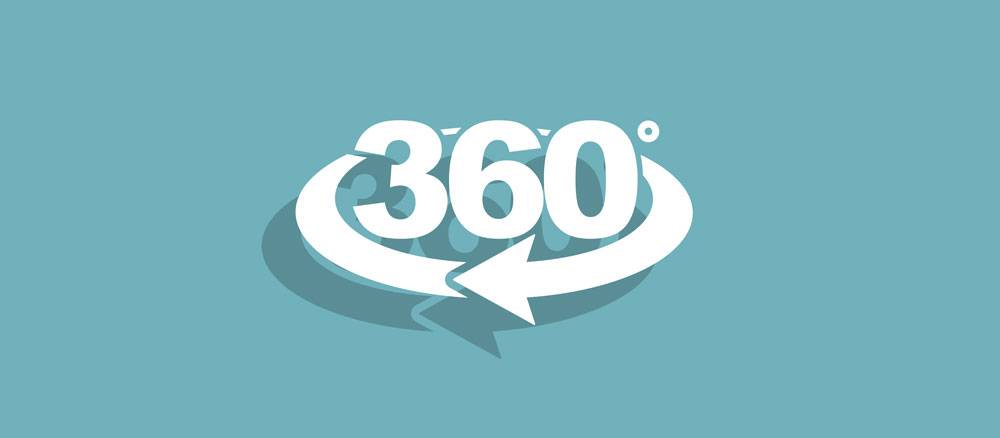 A 360-Degree Customer Profile Boosts Prospects Down the Sales Funnel
Customers expect personal and relevant marketing. As an effect, the email marketing competition is not about who screams the loudest; but rather about who creates the most relevant data-driven marketing that enriches the customer experience. 
Here's where the marriage of personalisation and marketing automation truly excels.
Most companies posses a great deal of data about their prospects and customers. However, this information is most probably stuck in silos and contained in a number of locations. As a result, the scope and the view of your customer profiles becomes limited.
With the emergence of marketing automation, you can breach these data silos to create a 360-degree customer profile. This way, your customers' or prospects' social data will be imported directly into a customer profile. 
As an effect, you can gain insights about your prospect's activity, see what pages they visit, what they like to read and what they download. This creates the groundwork that enables you to send out timely, valuable personalised content.
In addition to this, marketing automation tracks the status of your individual prospect or customer in the customer lifecycle. So if you merge your marketing automation software tool with your cross-channel data and segmentation, you'll be able to create relevant and valuable content that'll push your leads even further down the sales funnel.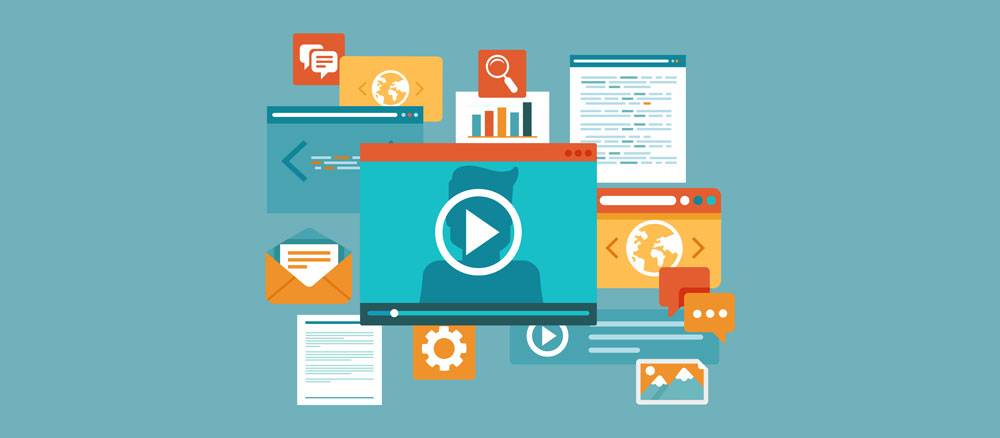 Push Intelligent Content
With the insights granted by your existing data, you'll be able to track and hone in on your customers' interests and demographics, and thus tailor messages that are specified to a customer profile. As an effect, you'll be able to zero in on intelligent content, and create and promote the personal shopping experience. 
One example of intelligent content? Recovery emails. This kind of message is sent to customers who haven't expressed interest in or purchased a product within a certain amount of time; one month, three months, six months, even a year…
Or another case of intelligent content that's behaviourally tailored is Coursera. In this email, Coursera uses data from the courses that the prospect has previously read and merges it with online behaviour. The effect is highly personalised and highly relevant dynamic content. This email rekindles interest on a personal level, and consequently builds trust and loyalty. You'll feel that Coursera knows what courses you want to attend, before you know them yourself.
Real-Time & Relevant Messages
Marketing automation uses behavioural data as a starting point for triggered email activity, monitoring actions like signing up to a newsletter, putting items in a cart or filling out a form (just to name a few).
Since triggered emails are automatically sent out after an action has been taken, they increase the sense of relevancy and personalisation. What's more, if you merge the emails triggered by your marketing automation system with personal customer data such as purchase history, age and civic status, you can specify triggered emails so they truly complement the customer profile.
One company who creates relevant marketing automation that re-engages customers is Beauty Bay: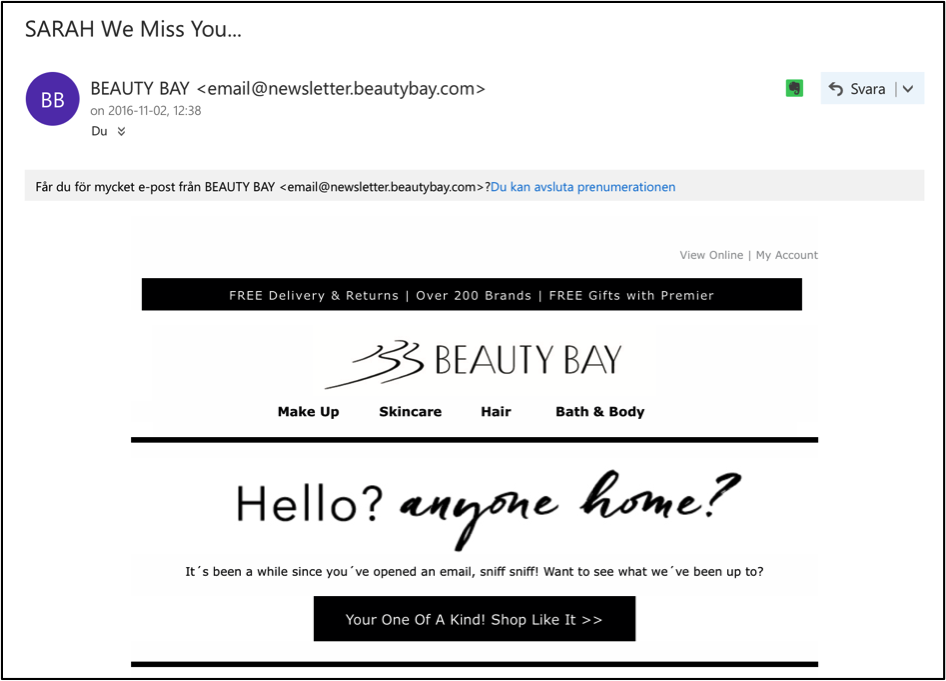 The personally addressed subject line pulls the reader into an email that expresses customer activity concerns. They're encouraged to revisit the web page, and rekindle their love for the products - all through wittily written copy. 
(However, even though this is a good example, Beauty Bay would boost both their sense of personalisation and sales if they'd include product recommendations based on previous purchase history.)
So as you can see, merging customer profiles and marketing automation will result in an effective form of data-driven marketing that will help you target your audience with a personal touch. Which means that your prospects will be transformed into sales-ready customers, and your sales will be boosted with less manual effort. Exciting, isn't it?
This article was originally published on 2019-04-11, last updated on 2020-07-10.