Dec 16 | 10 minutes read |
5 Experts Predict: Digital Marketing in 2020
5 experts, and a whole bunch of trends. 2019 has been an eventful year characterised by increased awareness regarding the environment, data management, and privacy. But 2019 is becoming yesterday, and we're about to turn a new leaf and enter 2020.
To help you get off to a great 2020-start, our digital experts share their predictions about digital marketing in 2020. So put on your reading glasses and get ready to be inspired!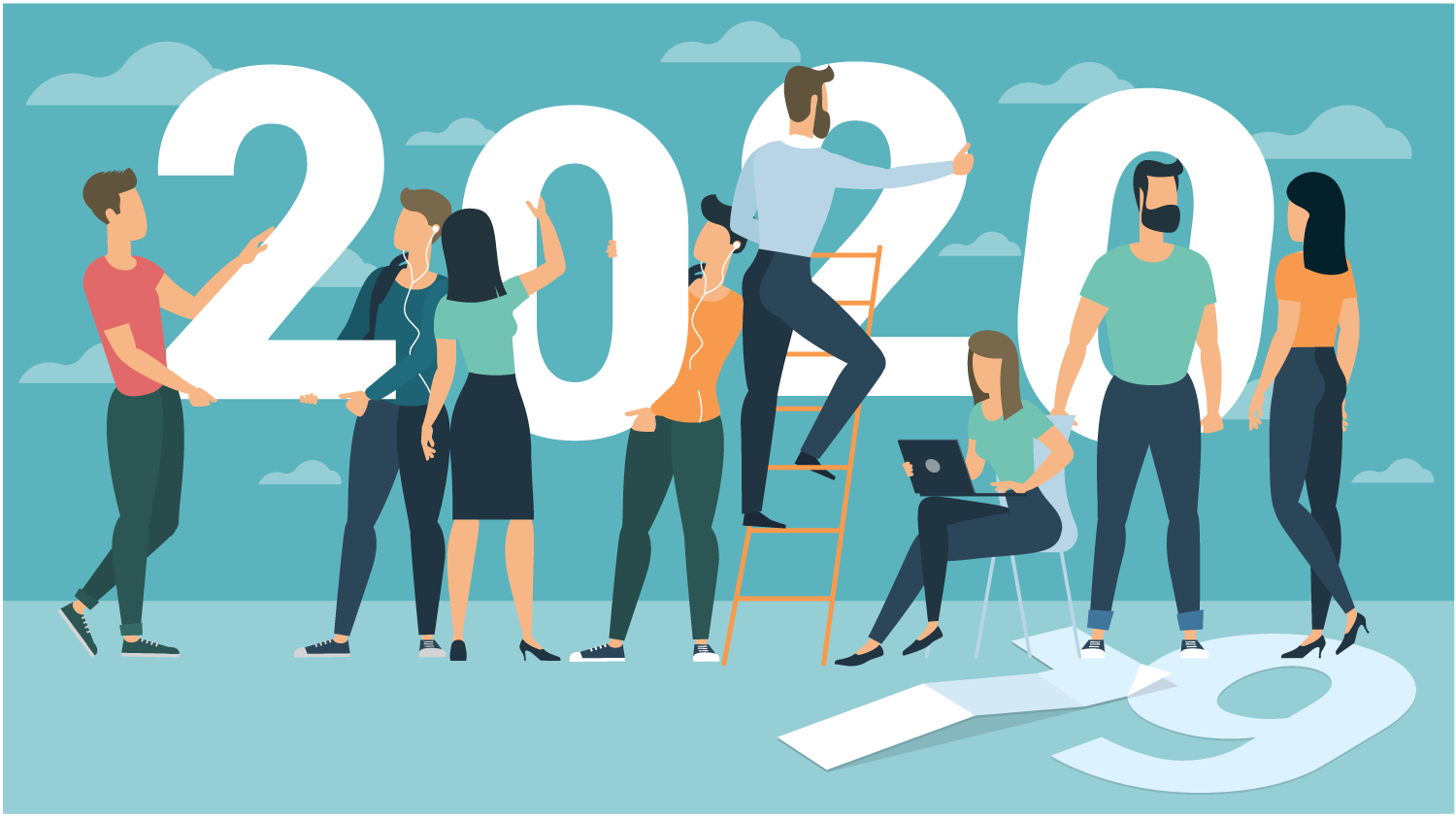 Our experts have pulled out all the stops to share their top trends. So, this is a long one! If you want to select a topic that tickles your fancy, just click on a link below and we'll take you there!

First up is APSIS' Head of Creative Services: Fredrik Wremerth, who has worked within digital marketing for almost 13 years. As our very own email evangelist, his predictions are as sharp as a tack.
Interactive Emails Means Good Experiences for Your Subscribers
The near future for email is spelt interactivity – something that can attract your subscribers to remain as customers. Interactive newsletters are a great method to invite the subscriber to co-create the experience. In addition, it enables you  – as a sender – to ask for feedback without being intrusive and unnatural.
Video Content Is Becoming Increasingly Popular
To use video in an email context is both a popular and an increasing trend, but it's also a great way to attract more clicks and bump your open rates. Industry statistics state that videos might increase your open rate with about +20% and click rate upwards of +60%.
Even though the popularity and demand are undeniable, it's worth mentioning that many of the email clients, such as Gmail, Outlook, and Yahoo, still do not support this technology and code.
Gmail's Annotations Bring Your Campaigns To Life
Want to make your emails stand out a little extra? The Gmail feature "Annotations" makes it happen. This Gmail feature presents a brand-new way of communicating with your subscribers – already in the inbox.
With the help of pictures, company logo, offers, and expiry dates, you can make your campaigns more visible to your subscribers before they actually open your email.  By using these special features, you'll up the chance to leverage a much higher open rate.
Want to revamp your email marketing in 2020? Explore the possibilities of our new email tool!

Next up is a common pain point for a lot of businesses: marketing and sales alignment. So, we asked Frida Bogren – Marketing Operations at APSIS – for the one biggest trend within her field. Frida has a great interest in marketing and considers it to be both her profession and hobby. Right now, her favourite topic is Growth Marketing (and hacks). This is Frida's predictions on marketing and sales alignment for 2020:
Account-Based Marketing – for the Conscious Organisation
Within B2B marketing in 2020, there will be a lot of focus on Account-Based Marketing (ABM). Albeit, this method isn't new. But since it's all about highly-targeted efforts toward strategically identified accounts – it's likely to gain ground during the 2020s.
But what does it mean? Well, it's "A strategic approach to business marketing based on account awareness in which an organisation considers and communicates with individual prospect or customer accounts as markets of one."
For many of us marketers, the status of ABM  is that we either have (or will) realised that it needs to be at the top of priority lists. Why? Well, because it addresses two of the biggest digital-marketing challenges:
Delivering a trust-building, personal marketing experience
Aligning sales and marketing
And what effects will ABM have – if done right? The answer is that it will:
Build a strong bridge between sales and marketing, since the two departments have the same mindset and goals
Serve your customers by communicating with them in a targeted way – a way that they, in 2020, expect
Generate high-quality leads for your business
This method is suitable for companies of all shapes and sizes. Why? Because there are many ways and scales to use, such as 1-2-1, segmented or for a broader audience. Regardless of your choice,  there's one thing they all have in common: they focus on building trust and revenue in a personal way – targeting the audience that sales and marketing both agree upon is the most important one.
The marketers and sales representatives that have implemented and worked with this particular method can testify to results such as a strong ROI. So,  it's definitely a method that should be on your digital marketing agenda for 2020 – in one way or another!

We've also spoken to Sanna Ramfors – Senior Professional Services Consultant. Sanna holds a Bachelor's degree in International Marketing and a Master's degree in Communication. And with about 14 years of experience within the business, Sanna really enjoys being able to place herself in the customer's shoes and she sees on digital marketing as an opportunity to build strong bridges. Her's her predictions on E-commerce in 2020:
The Brand- New Consumer Awareness
The environmental impact of e-commerce, and reducing its carbon footprint, will be the hot topic of 2020. During the past year, the Nordic consumers have reacted strongly to environmental issues, and movements such as like the Swedish word "flygskam" (flight shame), illustrate that we are quick to adjust our consumption patterns. White Monday has challenged Black Friday, and new e-commerce business models are popping up here and there. This, as a clear result of heightened consumer awareness.
Another, inevitable e-commerce trend of 2020 is a truly personalised shopping experience with flexible payment and delivery options. In combination with the environmental awareness movement, it has already opened up for innovative business ventures, such as fully serviced parcel delivery points – like Beyond Us in Malmö and Box by Posti in Helsinki. In these places, customers are able to pick up their parcel and try it on in an environment that offers upsell possibilities. At the same time, they're having access to recyclable packing materials and the possibility to return the goods they don't wish to keep. Smart, right?
Want to boost your e-commerce with marketing automation? Learn more about it – here!
The Increasing Demand for Flexibility
The Nordic consumers expect to see a number of flexible payment options, and the monopoly of traditional card payment continues to be challenged. Consumers are becoming accustomed to seeing extremely flexible delivery options and any e-retailer not following this trend, will get left behind. New services, such as Early Bird, efficiently drive deliveries during the night, so that the customers can have their goods delivered first thing in the morning.
E-retailers, who are conscious of what lies ahead, will make sure to customise everything from the packaging materials, to a personal note and also ensure that the customers feel special. The most important thing is, thus, to make sure that the customers feel that their online purchase fulfils their individual criteria of a meaningful purchase.
In 2020 we will see the end of e-commerce being seen as a bargain-hunting alternative to the high street. Therefore, a successful online experience needs to match that of instore. This will offer endless opportunities for you to stand out from the crowd and it also plays to the advantage of those Nordic e-retailers that are able to combine the locality trend to agile e-commerce services.
And How Will These E-commerce Trends Affect Marketers?
The fact that e-commerce is growing up from a price-sensitive bulk selling channel to a key player in the personalised omnichannel purchase experience means that it'll also need to mature in terms of enriched content that's able to support diversity and speak to each consumer individually. With the vast behavioural data and automation tools available, marketers will have the opportunity to work their magic during the entire customer journey.
Tell Your Story: Be Real and Transparent
The wholesome online experience can only be fully provided via creative storytelling – sharpening the brand image and mission. By creating content that enables the customer to associate their values and lifestyle choices with the online shopping experience offered by the brand – you're definitely on the right track. As the influx of behavioural data provides the opportunity to take instant action and come closer to the consumer, an element of "realness" and sincerity goes a long way in marketing strategies.
Instead of opting for picture-perfect images planned down to the smallest detail, which can result in the customer perceiving automated communication as exactly that: automated messaging triggered by an algorithm, the Nordic consumers want to increasingly see transparency and the everyday activities of a particular brand.
Marketers should see this as an opportunity to reinvent the rules of the game and put their efforts into making each online purchase journey special. And don't forget to have a lot of fun whilst redefining the relevancy of marketing as a discipline in the next era of e-commerce.

The fourth expert we talked to is our brilliant Digital Marketing Specialist Karin Lindell – this time about SEO. Originally, Karin is a photographer with a degree in anthropology, but she soon found interest in marketing and web development– this to be able to reach customers within photography. She realised that marketing was her thing, and now she's been doing marketing and SEO on and off since 2006. This is what Karin predicts about SEO in 2020: 
EAT-Factors Will Be One of the Biggest SEO Chatters in 2020
Competition and online presence are growing. And the space on the SERP (Search Engine Result Page) for organic search results decrease as more and more companies realise the value of good SEM and SEO. In addition, an increasing amount of marketers are realising the value of utilising better white-hat SEO. 
Much indicates that the focus for search, in 2020, will be a mixed work of creating and connecting more EAT-factors on the content side – in combination with improving technical SEO for optimising site speed and indexability.
BERT – the Future SEO Trend
Another rollout, that we still don't know too much about, is BERT (Bidirectional Encoder Representations from Transformers). This update was announced at the end of October 2019. So, we can expect a lot of discussions and BERT-buzz during the first months of 2020. Keep your eyes and ears open for this one!
Another thing that is good to keep in mind for 2020: Search is still always about serving the best and most relevant content to the user – at the right time and in the best possible way. That will never ever change!
The "Greta Effect"
Lastly, we may see the "Greta Effect" (as in Greta Thunberg) in the Google algorithm – favouring companies with a strong authoritative and environmental profile. It may sound far fetched, but it goes in line with what Google is currently doing, regarding organic search with EAT.
P.S. Remember where you heard it first!

And what about digital marketing then? Mohammed Raad is our Digital Marketing Manager extraordinaire. With over eight years of experience in digital marketing and with a big passion for utilising and developing digital marketing ecosystems, Mohammed is the right person to walk us through his predictions for the upcoming year!
The Rise of Conversational Marketing
Conversations are powerful! In fact, they're becoming a core tool for businesses looking to enhance their growth. However, conversational marketing isn't new: we've seen it for years. But – the reason for renewed interest within the topic lies in the change of our customers' behaviours.
Everything is getting more immediate and urgent, but yet: customers are still demanding personal and responsive experiences. But it also ties into the recent advances in technology and machine learning capabilities, which allows businesses to have conversational marketing at scale. Companies can simply approach customers in customer-time – not on their own. And here we're talking about real-time communication, available from anywhere a customer may want to reach you.
Let the Chatbots Take Care of the Simple Routine Tasks
One of the key trends that have steadily been on the rise in the context of conversational marketing is chatbots. Chatbots are basically effective software programs that interact with website visitors and customers in real-time.  A lot of companies are leveraging the power of chatbots, and they'll continue to do so.
However, it's important to keep in mind that they haven't reached the level of intelligence we would want. The limitations of the chatbots show that it isn't possible to replace a live human chat with a bot chat.
So – a trend that we will definitely see in 2020, is Hybrid Chatbots – a solution where businesses leverage the power of humans and chatbots working – together. In simple terms – these chatbots take care of simple routine tasks and allow humans to leverage their time on more complex conversations where they actually add value.
In Summary
Which we can probably agree on, the development of digital marketing never stops: technologies are improving and people are evolving. And that's pretty good, right? We really look forward to seeing what 2020 has to offer, and we hope that this blog post filled with trends has contributed with some inspiration, motivation, and some preparatory knowledge for the upcoming year!
Longing to further boost your knowledge for the new year? Check out our online library of handbooks and whitepapers!