Dec 01 | 4 minutes read |
Want to Make Black Friday 2018 a Success? We've Crunched the Numbers.
Black Friday 2017 is a wrap! And once again, the new shopping holiday broke last year's record as Swedes spent 5 billion SEK (approx. €475m) in total during their online shopping sprees.
Even though it's fairly evident that consumers are embracing the holiday, we noticed quite a bump in our own numbers. In total, 92 million emails (74,3m 2016) and 2,5 million promotional text messages were sent from our servers.
However, as the numbers continuously rise, so do the questions... Are there any secrets of Black Friday Success? How can you stand out in the cluttered inbox? And how can you optimise your stats – and maximise your profit? Let's dive into our own stats and crunch our numbers – and we'll deliver the answer!
What Days of the Week Deliver the Best Results?
Even though Black Friday technically is a one-day event, the drums start to beat several days prior. And as Black Friday has proven to be a smashing event, a lot of businesses chose to prolong Black Friday into a weekend, or week-long, event.
If you truly want to get bang for the buck, you should start sending out your promotional messages early. Why? Simply because it gives the bargain-hunters time to plan their shopping. In addition, Black Friday promotions reach their peak the closer we get to the main event, so it might be a smart trick to be the unexpected early bird. The chart below showcase how many emails contained "Black Friday" in the subject line throughout the week:
Unsurprisingly, our stats show that the amount of emails increased for each day and reached its crescendo on Friday. Tuesday had a slight dip in the amount of sent emails. However, this had a positive effect in terms of open rates...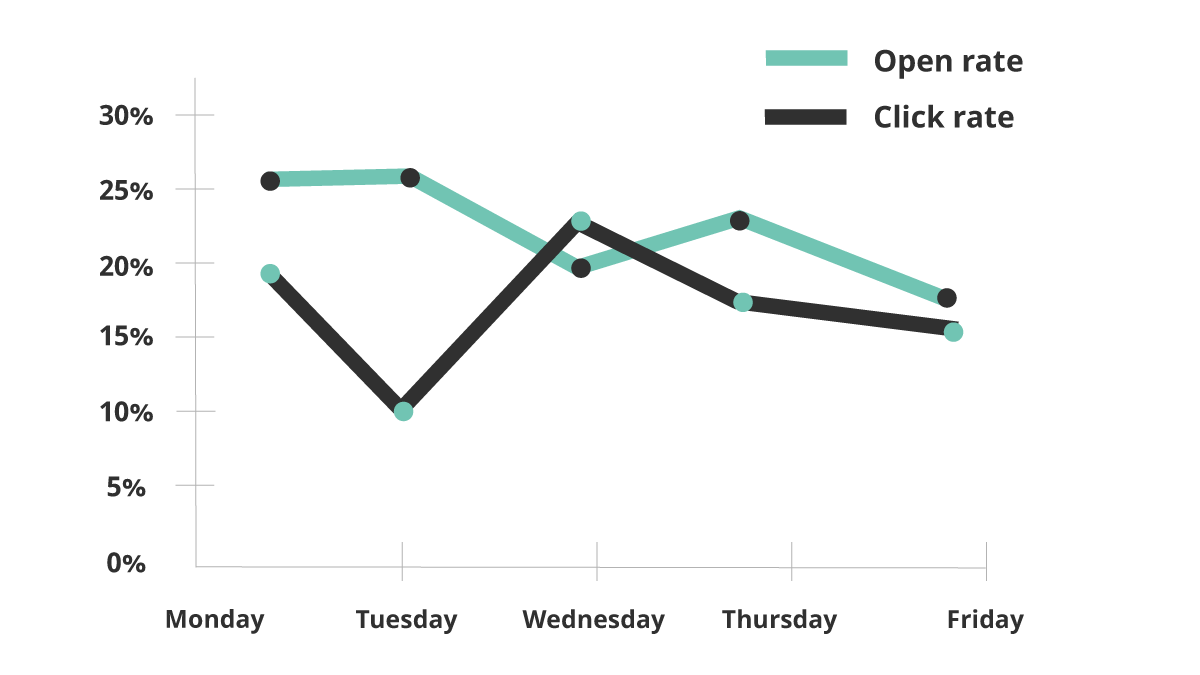 So, what's the prime time to send your emails if you want to maximise your open rate? Go for Tuesday! 
However… Even though the open rate peaked on Tuesday, the clicks were at its lowest. A possible explanation could be the distance in days from Black Friday, which might have decreased the incentive to click on links in emails.
On the flip side, if you want to drive traffic to your website, you should send your emails during Wednesday. As you can see in the chart, almost a fourth of the readers clicked on a link and were redirected to a website. Not too shabby!
Even though the percentage of opens and clicks reached its zenith during the first half of the week, traffic started to accelerate Thursday...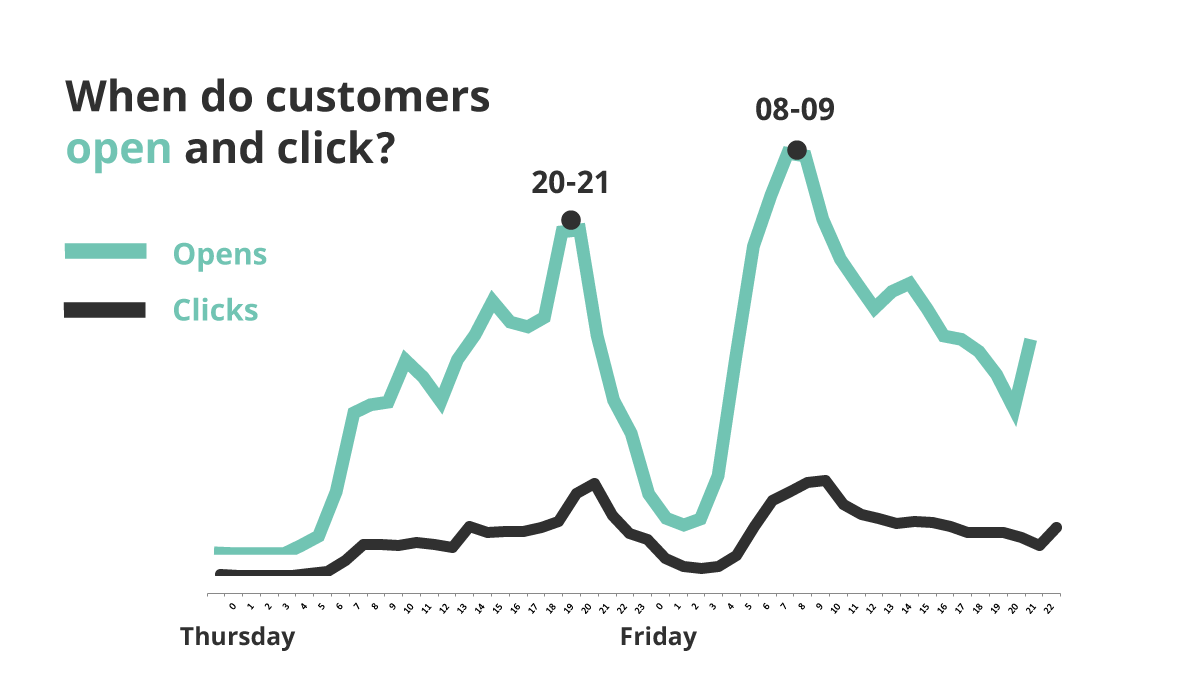 In the chart above, it's evident that activity was at its highest on Thursday evening and Friday morning. This is far from surprising,
as mornings and evenings generally generate maximum openings and clicks
. This can be attributed to the lifestyle and behaviour of today's active consumers, where email recipients tend to read emails before work, after work or during a commute.
However, the peaks in traffic are steepened and intensified as customers are eager to strike a bargain before the sale – and products – come to an end.
3 Quick Tips for Black Friday 2018...
Even though the stats paint a picture, it's impossible to make a fool-proof and precise prediction in email profitability. In the exact same second as an hour of the day is considered to be prime, it might be an advantage to do the exact opposite in order to stand out. Consequently, statistics should be considered as a general guidance. With this said, here are our three key takeaways from this year's Black Friday: 
1. Draw clicks during Tuesday
Tuesday has an odd combination of a high opening rate, yet a low click rate. The fix? Attract clicks and traffic to your website with stellar content. This will increase engagement prior to Black Friday and sharpen your competitive edge.
2. Send your most important promotion during Wednesday
Wednesday scored the highest level of engagement out of all the days. However, the stats show that most marketers wait until Thursday or Friday to send out their promotional emails. So, if you're planning to send out an important email next year – opt for Wednesday!
3. Avoid Friday afternoon
Even though customers open and click during Friday, there's a considerable risk that your emails will cause information overload for the customers. So, in order to engage your customers during Black Friday, you should avoid the afternoon and opt for the morning or nudge the last-minute shoppers during the later part of the evening
An extra tip: Personalise with data
Even though the stats provide insights, the key to success lies in your ability to listen to your customers and their needs. You need to collect and analyse customer data In order to truly understand your customers and maximise the ROI of your marketing activities.