Image
Personalise your website to deliver engaging customer journeys
Connect your CMS with APSIS One to gain a better understanding of who your visitors are, and what relation they have with your brand. Combine detailed CMS data with multi-channel data from APSIS One to make every website page feel personally relevant. Personalise website content based on factors such as:
Whether the visitor has given SMS and email consent

Customer attributes such as age, gender, city or work title

Interactions and behavioural data from your marketing campaign(s)
Episerver
With the APSIS One integration to CMS Episerver, you can, you can personalise your website content with ease.
Sitecore
The combination of data from your marketing platform and CMS gives you endless options to delight and engage your visitors.



Coming next

We are continously working on adding more integrations for APSIS One...
Image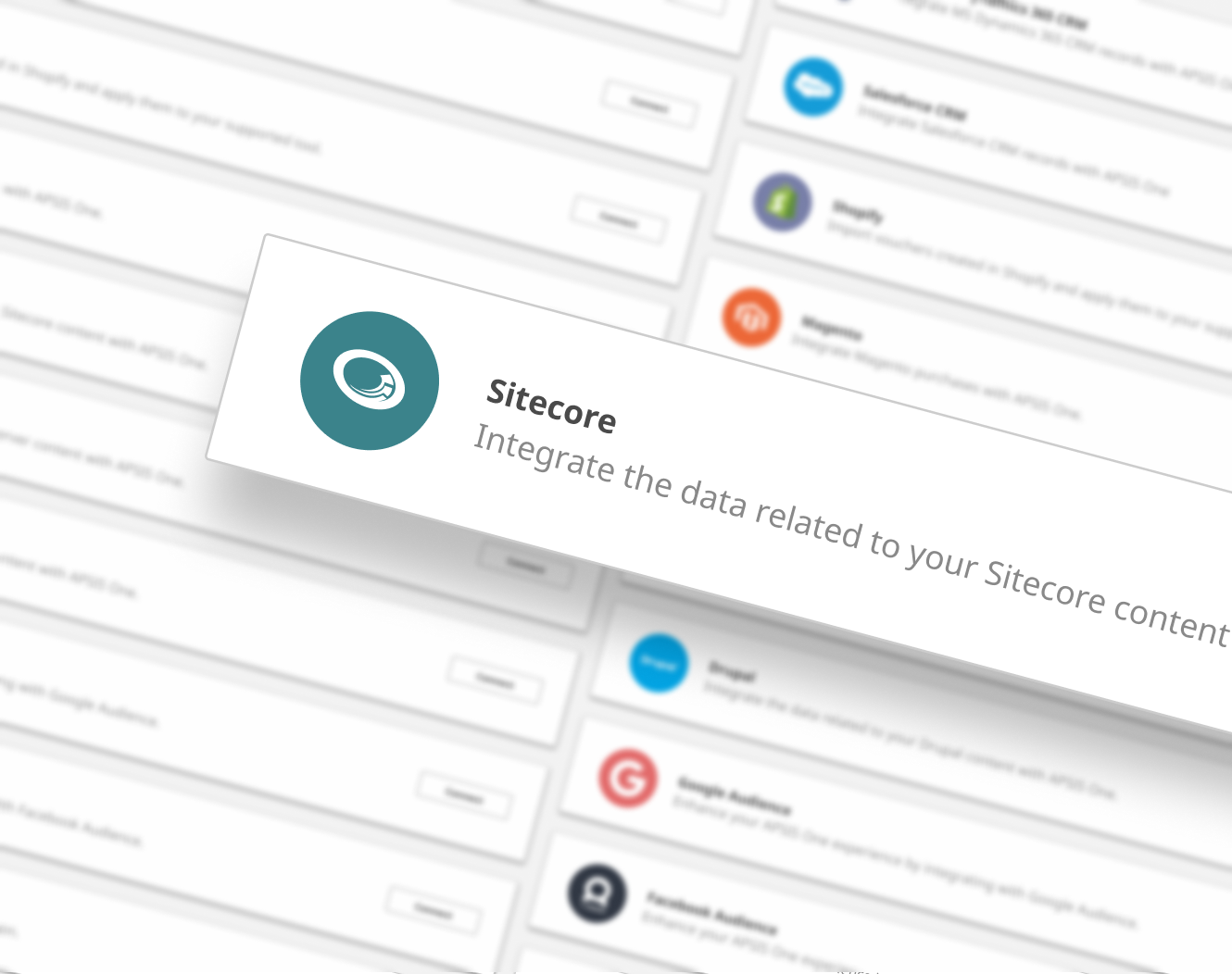 Fuel your CMS with powerful segments and rich multichannel data
Integrating your CMS to APSIS One makes it easy to deliver website experiences that match your visitors' personal needs and interests. Connect segments in APSIS One to your CMS to create rules for personalised content and tailored customer journeys.
With our CMS integrations, you can personalise website content based on customer data from multiple sources and all your owned marketing channels. Not only your CMS.
Segment-based targeting
Use the APSIS One Segments the same way you use segments in your CMS. Create customer experiences that span seamlessly across different channels and devices.
Website personalisation
Show, hide and customise all types of content to fit your visitors' needs and interests. Turn insights from multichannel data into personalised website experiences.
360 customer view
Feed rich data from your CMS into your customer profiles in APSIS One. Let website behaviour play a natural part of your personalised email and SMS campaigns.
Image
Connect Sitecore and APSIS One
Use segments from APSIS One as a condition for personalising your website content. Let first-party data from your APSIS One customer profiles be the X factor when you create the website experience in Sitecore CMS.
Image
Connect Episerver and APSIS One
Take your personalisation to the next level by using your APSIS One segments the same way that you use Episerver's Visitor Groups. Use your aggregated customer data to create content that resonates with each persona and business vertical.